Campus & Community
Employees: Please update your SU directory information by Feb. 4
The campus directory for employees for 2016 will be updated soon. The directory will be available online through MySlice. The information in the directory is used by SU's telephone operators and automated systems to connect callers to faculty and staff. Faculty and staff can log in and download a PDF containing department and faculty/staff listings in printed directory format. This file can be saved, browsed and printed.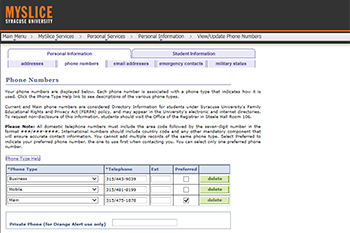 To ensure that your information is up to date and accurate, please review your information online at http://directory.syr.edu. If your phone number is incorrect, please log into MySlice and make the correction yourself. To make changes to any other information in the directory, you must contact your department administrator. All changes must be made by noon, Thursday, Feb. 4, to appear in the in upcoming PDF directory.
You will need your SU NetID and password to log into MySlice. Once you have logged in, navigate to "Personal Information" (in the "Personal Services" section) to review the following information:
Phone numbers: You can list several phone numbers in MySlice under the "phone numbers" tab. The number that you list as your "business phone" is the number that will appear in the campus directories, including the online directory (http://directory.syr.edu), Name Connector (dial 443-1870 or "0") and the PDF version. It may also be used for Orange Alert Notifications. Your "main" number is intended to indicate your home phone number or your primary off-campus phone number. Please make any necessary changes.
Other information: While you are in MySlice, please check your home address to be sure it is correct. It is located under the "address" tab. This address will not be published in the PDF or online directories. It is used for certain University communications, including benefits information, which are mailed to your home address. Similarly, check your emergency contacts, which will not be published in any directories.
All faculty and staff are encouraged not only to verify that their personal contact information is correct, but also to update it whenever it changes.
If you do not have access to the Internet, contact the HR Service Center at 443-4042 to request a form to update your information.
QUESTIONS? CONTACT:
Telecommunications
Skytop Office Building
Phone: 443-4730
Email: telecom@syr.edu