Campus & Community
Applicants Sought for 2017 Senior Class Marshals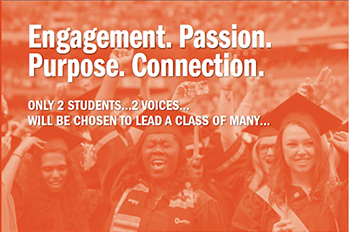 Applicants are being sought to be Senior Class Marshals for the 2017 Commencement.  This unique opportunity is open to current juniors and the application deadline is Jan. 29. Two students will be chosen.
Marshals now have the unique opportunity to:
meet with senior-level University administrators to share feedback on the SU experience;
engage in exclusive networking opportunities with alumni;
represent the Class of 2017 at special Universitywide events;
help to select the 2017 Commencement speaker; and
lead the entire Commencement procession at graduation.
Qualified applicants for Senior Class Marshal should be distinguished individuals who have excelled during their time at Syracuse, exemplify the spirit of the senior class and exhibit excellent critical-thinking skills. Further criteria used to determine qualified nominees include:
scholarship;
academic honors;
student organization involvement; and
an essay soliciting the student's suggestions for engaging the SU community in Fast Forward Syracuse.
For more information, contact Colleen Bench at 443-9153 or cobench@syr.edu or visit the website: http://seniormarshal.syr.edu.