Campus & Community
Accessibility Training Classes Spring 2016
The University seeks to ensure that all people, regardless of individual ability or disability, can effectively access University communications and technology. Information Technology Services (ITS) has announced its new Walk-in IT Accessibility Help Desk hours. New this semester, the IT Accessibility Help Desk provides consultation on related topics, including video captioning, remediation of your PDF, PowerPoint or Word documents to ensure accessibility, and identifying and fixing accessibility issues on your website. This new service is available Mondays and Thursdays, 11 a.m.-1 p.m. at the ITS Service Center, 1-227 Center for Science and Technology.
Accessibility training workshops available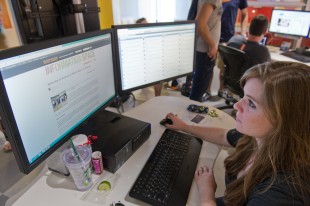 ITS is accepting registrations for three training workshops that will build faculty and staff awareness of, sensitivity to and proficiency in ensuring the accessibility of information communications and technologies. "Creating Accessible Documents" focuses on course materials and documents; "Evaluating Your Website for Accessibility" focuses on websites and online resources; and a new workshop called "Video Captioning" covers the basics of adding captions to video content.
The workshops will help participants understand accessibility, put it into practice on the job and support the University's efforts to ensure accessibility of documents, systems and communications across campus.
The workshops will be presented by Sharon Trerise and Kara Patten from ITS's Academic Services team at the dates, times and locations shown below. Each session has space for 12 participants.
Seating is limited, so register early! There is high demand for this training, so registration is on a first-submitted, first-enrolled basis. Use the link below to register.
About the workshops
Creating Accessible Documents
Overview
This three-hour workshop provides a fundamental overview of creating accessible documents in Microsoft Office and Adobe Acrobat Pro DC on Windows or Mac computers. At successful completion, participants will be able to:
explain and demonstrate the importance of creating accessible documents
understand basic concepts of creating accessible documents
understand best practices for creating accessible Word and PDF documents
remediate legacy Word and PDF documents to make them accessible
utilize the Office accessibility checker
identify and correct common accessibility errors
use Adobe Acrobat Pro DC's accessibility checker
All sessions are held Wednesday mornings from 9 a.m.-noon as follows:
Operating System     Day and Date                          Location
Mac                         Wednesday, March 16              Huntington Hall, room 070A
Windows                  Wednesday, Feb. 10                Steele Hall, room 001
Windows                  Wednesday, March 9               Steele Hall, room 001
Windows                  Wednesday, April 13                Steele Hall, room 001
Windows                  Wednesday, May 25                Steele Hall, room 001
Windows                  Wednesday, June 22                Steele Hall, room 001
Evaluating Your Website for Accessibility
Overview:
Designed for anyone who manages, creates or maintains web content, this workshop will discuss relevant concepts and coach participants through evaluating their pages against the accessibility checkpoints. The workshop will cover basic techniques for evaluating web content, including:
accessibility resources and tools at SU
applicable legislation and compliance
automated accessibility checkers
steps for manually checking web page accessibility
a brief introduction to screen readers
design considerations
captioning vendors and tools
Workshop Dates (all take place Wednesdays from 9 a.m.-noon in 001 Steele Hall)
Jan. 27
Feb. 24
March 30
May 11
June 8
Video Captioning
Overview:
The video captioning workshop is designed for anyone who manages, creates or maintains video content and is offered in two parts. Part one covers the basics of captioning as well as considerations when purchasing captioning services from third-party vendors. Part two is optional and designed for those who wish to know more about creating their own captions.
Part One: Captioning basics and third-party services
audience considerations
caption types and terminology
cost and resource considerations for DIY captioning vendors
vendor comparisons
Part Two: DIY captioning
hands-on experience with captioning tools
caption file formats
captioning rules and quality control
costs and resources
All video captioning workshops take place in 001 Steele Hall at these dates and times:
Workshop Dates           Part 1 (Basics)           Part 2 (DIY)
Friday, Feb. 12               9:30-10:45 a.m.         11 a.m.-noon
Thursday, March 10       1-2:15 p.m.                  2:30-3:30 p.m.
Friday, April 15             9:30-10:45 a.m.          11  a.m.-noon
Tuesday, May 24          9:30-10:45 a.m.           11 a.m.-noon
Register here for any of the workshops
Other topics
If you are interested in learning about ensuring the accessibility of online and mobile applications, or other services and communications, please send an email to accessibleIT@syr.edu with a description of your interest and with any questions. Your input will guide the development of coming programs.
For more information
ITS offers a growing variety of resources to ensure accessibility for all members of the Syracuse University community. Visit the Technology Accessibility web page and check out the Accessible Technology Toolkit.
If you have any questions about this workshop, or other accessibility and technology issues, please send them in an email to accessibleIT@syr.edu.