2016 MLK Jr. Remembrance Ceremony 2016 on Monday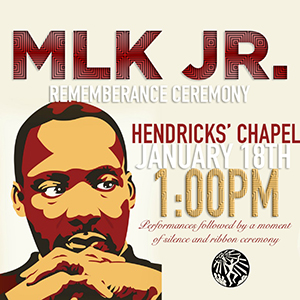 On Monday, Jan. 18,  the MLK Jr. Celebration Committee will host a MLK Jr. Remembrance Ceremony commemorating the legacy of Martin Luther King Jr. The ceremony will begin at 1 p.m. in Hendricks Chapel.
The event will consist of student performances followed by a moment of silence and a ribbon ceremony. The campus and wider communities are invited to participate in this event.