National Day of Giving Events Planned for Today
Tuesday, Dec. 1, is National Day of Giving, or #GivingTuesday. Now in its fourth year, #GivingTuesday is observed on the Tuesday after Thanksgiving, following the widely recognized shopping events Black Friday and Cyber Monday. #GivingTuesday kicks off the month of December, when many people focus on year-end charitable giving.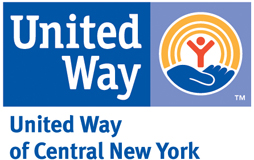 Staff and students can participate in several giving events on and near campus, each benefiting the University's community partner, United Way of Central New York.
Winter Warm Up event. The Department of Public Safety will host a Winter Warm Up tent event from 9 a.m.-2 p.m. near the College Place bus stop. The event will feature free hot chocolate, a baked goods and craft sale and free crime prevention giveaways. Cash donations of any amount will be accepted and any staff member who completes a United Way pledge card at the event will be entered to win a gift card from Wegmans or the SU Bookstore! Pledge cards will be available at the event and offer payroll deduction, cash, or check as giving options.
SU Can Give! Staff and students are invited to bring their returnable bottles and cans to the Parking & Transit truck in front of Sims Hall between 9 a.m.-2 p.m. Staff from SU's Parking and Transit Services offices will be on hand to assist with donations.
Decorate the Bookstore. The SU Bookstore will continue its paper leaf sale at its cash registers. Staff and students can purchase a leaf for $1 dollar and hang it in the Bookstore.
Game Changer bracelet sale. People's Place coffee shop on the lower level of Hendricks Chapel, along with Varsity Pizza on S. Crouse Ave. and J. Michael Shoes on Marshall St. will give donors a Game Changer orange bracelet for a minimum $1 dollar donation.
For more information on #GivingTuesday events to benefit the United Way, contact the Office of Government & Community Relations at 443-3919.