Media, Law & Policy
Three College of Law Professors Awarded Internal Research Grants
Associate Professors in the College of Law Lauryn Gouldin, Michael Schwartz and Cora True-Frost have been awarded research grants from the University. The research grants are part of the University's campus-wide Internal Grant Program.
Gouldin's grant is to support the development of her panel presentation, "Responding to the Money Bail Crisis," at the American Association of Law Schools' Annual Conference this January. The panel presentation, developed with Jocelyn Simonson of Brooklyn Law, will feature a number of academics and practitioners discussing "the state of bail and pretrial detention in the United States and an overview of a range of promising bail reform proposals and efforts, many of which have only begun to take shape in recent months." This presentation ties into an article Gouldin is writing on the issue.
Schwartz's grant is a continuation of his research conducted as a Fulbright research scholar at Queen's University Belfast in Northern Ireland on effective communication between deaf clients and their solicitors. His initial research found that deaf clients were often denied a sign language interpreter, in violation of the United Nations Convention on the rights of Persons with Disabilities. Schwartz will be conducting additional research with key stakeholders (deaf clients, solicitors, interpreters and government) to generate data and insight in order to address the problem of effective communication access to solicitors for the deaf in Northern Ireland.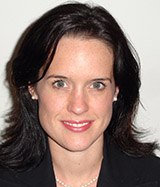 True-Frost's research grant is for the development of a panel presentation on international legal responses to criminal behavior following her publication in April 2015 of "The First Global Prosecutor: Promise and Constraints." The panel, being established with Professor Jenia Turner from Southern Methodist University, will examine how international governmental and non-governmental organizations are increasingly working in conjunction with domestic jurisdictions to apply criminal sanctions in various contexts. New legal ground is being broken, in many instances, and new precedents are being set, as was the case with the indictment of a sitting head of state by the International Criminal Court. At the same time, certain situations languish, unconstrained by international criminal law, as is the case in Syria. The panel will discuss the complex relationships between international laws and international organizations' responses to crises, and consider the strengths and failures of the responses.