Media, Law & Policy
SPIN Auction Helps Law Students Pursue Public Interest Careers
Social justice, children's rights, veteran's rights, civil liberties—these are just some of the community issues that College of Law students can help address with funds raised at the annual Public Interest Auction hosted by the Syracuse Public Interest Network (SPIN). The SPIN auction begins at 7 p.m. on Friday, Nov. 13, at the Crowne Plaza Hotel, Syracuse. The event includes both silent and live auctions, with such items as leisure activities and fine dining eats and treats. All auction proceeds fund SPIN Fellowships, which are given to College of Law students who obtain unpaid summer internships in the public interest sector.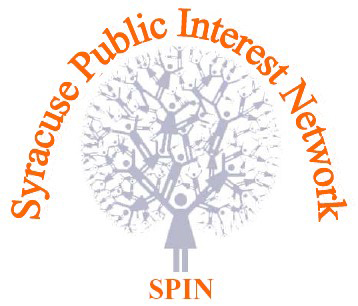 "Thanks to SPIN, I was able to represent clients as a clerk with the Solano County, Calif., Public Defender. Our office worked to provide direct legal services to indigent people accused of crimes," says Martin Wolfson L'16. "Those that can't afford an attorney are marginalized, and a lack of funds often limits an access to justice. But because of a SPIN Fellowship, I was able to make it so our clients could have the full measure of justice."
Now in its 23rd year, the program continues to raise money to encourage law students to pursue careers in public interest law. Last year, the organization raised more than $45,000 to fund 14 fellowships for students who volunteered in the public interest sector during the summer. This translated into approximately 4,200 hours of work dedicated to helping those who cannot afford legal assistance. SPIN members worked in legal service organizations, private nonprofit legal organizations and government agencies throughout the country.
Tickets are $25 through Nov. 10. For more information, to donate items or to attend the event, contact the auction director, Sara McCreary, at semccrea@syr.edu or 315-246-0806.