'Networked Arts' Performance to Take Place at Syracuse, Cornell, Beijing Nov. 8
Syracuse Symposium 2015™ "Networks" continues with "Networked Arts," an international performance on Nov. 8 linking Syracuse University, Cornell and Beijing. The program is presented by the Society for New Music, and will be held at 7:30 p.m. in Joyce Hergenhan Auditorium in Newhouse 3.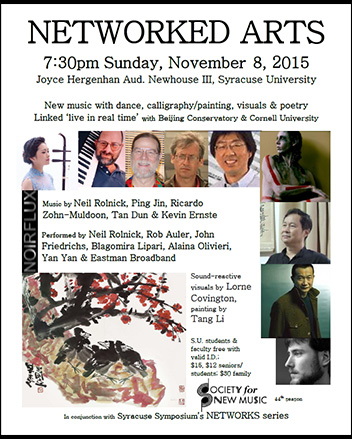 Music in Syracuse will be accompanied by dance at Cornell, and poetry and Chinese painting in Beijing, while an erhu (Chinese two-stringed fiddle) performance in Beijing will interact with sound-reactive visuals by artist Lorne Covington in Syracuse. Audiences at all three venues will see and hear all performances simultaneously on big screens.
"This is an incredibly complex event, both technically and artistically," says Neva Pilgrim, director of the Society for New Music. "The tech rehearsals with IT people at each site and between sites have been going on since September. It's bound to be a once-in-a-lifetime experience for those attending, whether in Syracuse, at Cornell or in Beijing."
Humanities Center Director Vivian May remarks, "We are pleased to support the Society for New Music in this innovative, multi-site arts performance. This event offers a rare opportunity to bridge different genres and audiences in real time, via the layers and interactions offered by combining live performances with a networked environment."
Guest Neil Rolnick, former head of RPI computer music, director of the iEAR Studios and a pioneer in the use of computers in performance, will be on hand in Syracuse to join the ensemble in performances of two of his works, "Faith" (2009) and "Fiddle Faddle" (2003). The approximately 25-minute "Faith" will be accompanied by Chinese painting in Beijing by renowned impressionist painter Tang Li responding in real time.
In Syracuse, Blagomira Lipari, Rob Auler, John Friedrichs and guest ensemble Eastman Broadband will perform music by Rolnick, Ernste, Ping Jin and Ricardo Zohn-Muldoon's 2015 "Sones de tierra fria" (four settings of texts by Shakespeare and Raul Aceves, and two settings of Shakespeare sonnets, all texts about love).
Syracuse composer Ping Jin will be in Beijing, where he teaches at the Beijing Conservatory, to see and hear the Syracuse performance of his 2012 "Three Folksongs from the Blue Lake," a three-movement clarinet trio making use of folk tunes from the Blue Lake region in Qinghai Province, China.
Ithaca composer Kevin Ernste will be at Cornell University's Lincoln Hall with dancer Alaina Olivieri, who will dance to his 2010 "Long Path," choreographed by Eran Hanlon and performed by pianist Rob Auler in Syracuse. The Chinese poem that inspired the work will be read in Beijing, also coordinated with the music in Syracuse.
Covington's sound-reactive visuals in Syracuse will respond to an erhu solo by Grammy winner Tan Dun performed in Beijing by Yan Yan.
This is the third concert in the Society for New Music's 44th season of concerts in Upstate New York, where it is the only year-round new music group and one of the oldest in the U.S.
The event is free for Syracuse University students and faculty with valid I.D.; $15 for seniors and $12 for students; $30 for a family. Tickets are available via paypal at www.societyfornewmusic.org, by calling 315-245-1689 or at the door.