Campus & Community
Graduate Forum on Research Methodologies to Be Held Nov. 13
A graduate forum on research methodologies will be held Friday, Nov. 13, from 8:30 a.m. to 12:30 p.m. in the Peter Graham Scholarly Commons on the first floor of Bird Library. All are welcome to attend.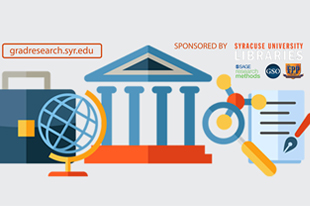 The event will include a research roundtable discussion on "Does Science Work? The 'Crisis' in Research Integrity,  Transparency and Reproducibility," sponsored by the Future Professoriate Program. It will include:
David Amberg, vice president for research at SUNY Upstate Medical University
Carl D'Angio, co-director of the graduate research ethics curriculum at University of Rochester
Neil Ringler, vice provost for research at SUNY College of Environmental Science and Forestry
Gregory Robinson, associate professor of political science, Binghamton University, SUNY
Evelyn Brister, moderator, associate professor of philosophy, Rochester Institute of Technology
An information fair will feature:
Information about grant assistance from participating schools/colleges
Coffee and light breakfast fare will be served. No registration is required. See the Gradresearch website for additional details or contact Bonnie Ryan at bcryan@syr.edu
The event is sponsored by Syracuse University Libraries, the Graduate School, the Office of Research and the Graduate Student Organization.