Campus & Community
Fall Wellness Series, Last Chance to Register
The Syracuse University Wellness Initiative is hosting a free Fall Wellness Series for faculty and staff. Register today!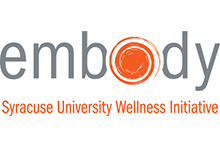 Fitting exercise into our busy lives can be challenging. Let Maggie Thomson, certified exercise physiologist and adjunct professor at Syracuse University, show you how you can increase your fitness level during your hectic day. No gym or equipment needed. Come spend your lunch hour with Thomson and you will leave feeling empowered and motivated. You will receive the tools and ideas about how you can start, change or enhance your fitness routine.
Thursday, Nov. 12
Noon-1 p.m.
304 ABC Schine Student Center
Trouble falling asleep, or staying asleep? Maybe we can help! Stephan Alkins will discuss the importance of sleep, habits that can improve your sleep, and overall sleep hygiene.
Wednesday, Nov. 18
Noon-1 p.m.
Schine Student Center, 228 B
Healthy snacks and a prize drawing at each presentation!
Register now for one or all of the fall wellness presentations. Space is limited.