Campus & Community
Zimride October Commute Challenge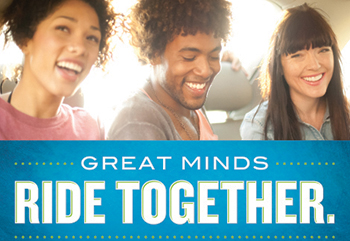 Syracuse University Zimride users who log their daily commutes during the October Commute Challenge, Oct. 1-31, in their personal Zimride Commute Calendar will have a chance to win one of two $50 MasterCard gift cards from Zimride.
The Commute Calendar not only tracks what form of transportation you are using but how many pounds of CO2 emissions you are saving. For complete rules Click Here. The Campus Commuter Challenge is a friendly way to encourage the University community to try using Zimride Syracuse and to try the carpool option.
Log in to your Zimride account or create a Zimride account at zimride.com/syr.
Click on your name, and select the "Commute Calendar" option in the drop down menu.
In the "From" box mark your starting destination.
In the "To" box mark your ending destination.
Log your daily commute and your name will be entered into a drawing to win a chance at one of the two $50 MasterCard gift cards supplied by Zimride.
Reducing automobile use has many benefits, including cutting greenhouse gas emissions, alleviating campus parking congestion, saving money on gas, improving air quality, reducing noise and traffic and reducing dependence on fossil fuels. Alternative transportation modes also have benefits including physical exercise, reducing stress and building community.
For more information on the Zimride October Commute Challenge, contact Melissa Cadwell at macadwel@syr.edu.