Campus & Community
WellsLink Hosts 12th Annual Transitions Ceremony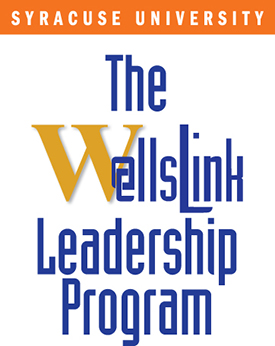 The Office of Multicultural Affairs, within the Division of Student Affairs, will host its 12th annual WellsLink Transitions Ceremony on Friday, Oct. 16, at 4 p.m. in Hendricks Chapel. The ceremony honors WellsLink Scholars from the previous year who have successfully transitioned through the WellsLink Leadership Program and into their second year at Syracuse University.
"The WellsLink Transitions Ceremony is a way for us to celebrate and acknowledge the achievements of our WellsLink Scholars during their first year at Syracuse University," says Huey Hsiao, associate director in the Office of Multicultural Affairs and lead for the program. "While the ceremony signifies the completion of the WellsLink program, these students will remain a part of the WellsLink tradition of excellence and continue to make their mark for the rest of their career on campus."
The event is open to the campus community, followed by a reception and book signing with keynote speaker Sonia Nieto.
Nieto has devoted her professional life to questions of diversity, equity, and social justice in education. A native of Brooklyn, she began her teaching career in 1966 in an intermediate school in Brooklyn, moving two years later to P.S. 25 in the Bronx, the first fully bilingual school in the Northeast. Her first position in higher education was as an instructor in the Department of Puerto Rican Studies at Brooklyn College, where she taught courses in bilingual education for preservice and practicing teachers. Moving to Massachusetts with her family to pursue doctoral studies in education at the University of Massachusetts, Amherst, she received her degree in 1979 with specializations in curriculum, multicultural education and bilingual education. After working for the Massachusetts Department of Education for a year, she accepted a faculty position at her alma mater, where she remained for 25 years, retiring as a full professor.
Nieto's research focuses on multicultural education, teacher education and the education of students of culturally and linguistically diverse backgrounds, topics on which she continues to write and speak. She has written or edited 11 books, including the best-selling "Affirming Diversity: The Sociopolitical Context of Multicultural Education," a textbook widely used in teacher education programs around the nation and beyond.
Nieto has received numerous awards for her scholarly work, teaching and advocacy, including six honorary doctorates. In 1998, she was awarded an Annenberg Institute Senior Fellowship in Urban Education and in 2000, a residency at the Rockefeller Foundation's Bellagio Center in Italy. In 2008, she received the Social Justice in Education Award from the American Educational Research Association (AERA), the premier professional organization for education researchers, and has also been elected as a fellow of AERA.
The WellsLink Leadership Program Class of 2018
Sundiata B. Addison (College of Arts and Sciences)
Oluwatofunmi M. Akinwale (College of Engineering and Computer Science)
Zaynah Anderson (S.I. Newhouse School of Public Communications)
Paige Brown (School of Information Studies)
Brielle A. Brown (College of Visual and Performing Arts)
Kalijah A. Chapman (College of Arts and Sciences)
Elaine Choi (School of Architecture)
Bryce N. Clark (School of Information Studies)
Sharod K. Clerge (College of Engineering and Computer Science)
Deanna M. Der (Whitman School of Management/S.I. Newhouse School of Public Communications)
Khandice L. Dyson (College of Arts and Sciences)
Cindy Escobar (College of Arts and Sciences)
Imani N. Faggan (College of Visual and Performing Arts)
Anibal E. Giron (College of Engineering and Computer Science)
Bianca Hayes (S.I. Newhouse School of Public Communications)
Taylor M. Heinz (Whitman School of Management)
Caroline A. Hernandez (College of Arts and Sciences)
Sierra C. Hicks (School of Information Studies)
Lixin Huang (College of Engineering and Computer Science)
Kirsten T. Kelly (Whitman School of Management)
Michelle K. Kincaid (College of Arts and Sciences)
Phoo Kyaw (College of Arts and Sciences)
Alexander O. Ladao (College of Arts and Sciences)
Kelsey A. Leeper (College of Arts and Sciences)
Hana Maeda (S.I. Newhouse School of Public Communications)
Eugene Maima (College of Arts and Sciences)
Angela L. Marsh-Coan (David B. Falk College of Sport and Human Dynamics)
Coreen Mason (College of Arts and Sciences)
Joshua A. McCleary (College of Arts and Sciences)
Christian F. Merced (College of Engineering and Computer Science)
Diamond L. Miles (David B. Falk College of Sport and Human Dynamics)
Idris A. Mohamed (School of Education)
Kiana Mosley (College of Arts and Sciences)
Tanjina Mowla (College of Engineering and Computer Science)
Stefan Nielsen-Sperb (Whitman School of Management)
Chizobam Nwagwu (College of Arts and Sciences)
Elizabeth Ogundare (David B. Falk College of Sport and Human Dynamics)
Junyue Ou (Whitman School of Management)
Asile Patin (College of Arts and Sciences)
Jahnessa I. Payne (College of Engineering and Computer Science)
Maria Kimberly Penoliar (School of Information Studies)
Brandon R. Polanco (College of Visual and Performing Arts)
Elias I. Preciado (David B. Falk College of Sport and Human Dynamics)
Giede-De Quaye (David B. Falk College of Sport and Human Dynamics)
Malcolm G. Ransome (College of Visual and Performing Arts)
Amanda N. Rowley (College of Arts and Sciences)
Sofia Santini (S.I. Newhouse School of Public Communications)
Sergio E. Santos (College of Engineering and Computer Science)
David M. Sargeant (College of Visual and Performing Arts)
Siddarth Senthilkumaran (College of Arts and Sciences/S.I. Newhouse School of Public Communications)
Eshetu B. Shiferaw (College of Engineering and Computer Science/School of Information Studies)
Sayem Sinha (College of Engineering and Computer Science)
Deborah A. Sue-Ho (College of Arts and Sciences)
Balda S. Tirone (College of Arts and Sciences)
Donte White (College of Visual and Performing Arts)
Elena E. Whittle (School of Architecture)
Janice O. Wilkins (College of Arts and Sciences)
Garrison E. Wong (College of Arts and Sciences)
Johnny Wu (College of Engineering and Computer Science)
Andre L. Yearwood (S.I. Newhouse School of Public Communications)
Shafin Zaman (College of Engineering and Computer Science/School of Information Studies)