Campus & Community
Wellness Initiative Offers Weekly Quizzes
Start your week off right!
Each Monday morning the Syracuse University Wellness Initiative team will post a short wellness quiz on http://wellness.syr.edu. Check in each week to test your wellness knowledge and you may win a CamelBak® water bottle!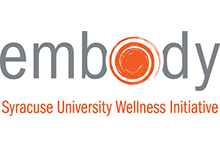 Here's how it works. A link to a brief, fun wellness-related quiz will be posted each Monday morning and remain open on the website until Sunday at 11 p.m. Want to be eligible for our weekly prize? At the end of the quiz, enter the requested contact information and your name will go into our weekly random prize drawing. If you would rather remain anonymous, just skip the request for contact information. It's up to you!
Weekly winners will be announced on the Syracuse University Wellness Initiative website. Check back each week to see if you are our lucky winner and complete the next weekly wellness quiz. Want to know how well you did on the previous week's quiz? The answers will be available to view the following Monday along with the next quiz!
It's as simple as that! Have an idea for a wellness-quiz? Email us at wellness@syr.edu.