Campus & Community
University Champions National Cyber Security Awareness Month
National Cyber Security Awareness Month (NCSAM)—observed every October—is a collaborative effort between government and industry to ensure every American has the resources they need to stay safer and more secure online. Here at the University, Information Technology Services (ITS) will champion this cause by raising awareness of ways to handle and access information securely.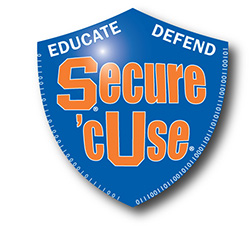 ITS' Information Security group will reach out to students, faculty and staff with awareness events at various buildings Wednesdays and Thursdays through October. Students, faculty and staff can complete the Secure'cUse Cyber Security Awareness Quiz in person or online and be eligible to win one of three iPad Mini tablets. Take the online quiz here.
Tablet winners will be chosen and announced at a public workshop in Maxwell Auditorium on Oct. 29 at 1 p.m. At the workshop, Christopher Croad, the University's information security officer, and his staff will present hands-on demonstrations of security threats and ways each member of the SU community can counter them.
"People are the favorite target of hackers when it comes to cyber security," says Croad. "Given proper training and awareness, our people can become our strongest line of defense."
The education sector sees some of the highest numbers of reported data breaches among industry sectors. As stories in the media demonstrate, data breaches have increased nationwide and affect more people than ever.
"We all need to be cognizant of the data we handle and ensure their safety," says Croad. "Those data are what the hackers try to get from us and our systems." He reminds everyone to:
STOP: Think about the data that you need to do your work.
EVALUATE: Categorize the data you handle. Social security numbers, student records, financial and credit card information are confidential and must be secure. "It's best not to have such data on your local system," says Croad. Similarly, enterprise or university data including alumni records, compensation and payroll data, infrastructure details and contracts are essential to the University's business and must be protected.
ELIMINATE or MITIGATE: Regularly evaluate your need to keep confidential and enterprise data. When you are done working with such data, delete it securely. "In all cases," says Croad, "handle data with care."
According to Sam Scozzafava, SU's interim chief information officer and vice president for Information Technology Services, "All members of the University community must work together to protect not only the institution's resources, but also our personal information, devices and online identities. National Cyber Security Month calls attention to the things each of us can do to keep personal and University data safe and secure."
For more information about NCSAM and IT security at SU, visit http://securecuse.syr.edu.