Campus & Community
Syracuse University Hosts Delegation from the Fulbright Program
On Friday, Sept. 25, Syracuse University hosted a delegation of Fulbright University placement officers from the Institute for International Education (IIE) to promote mutual institutional fluency and understanding among the University and the Fulbright Program.  The placement officers represented academic programs that included law, public policy, international relations, mathematics, accounting, communications and journalism.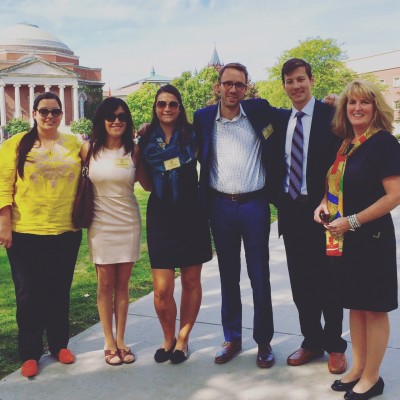 During their visit, the delegation attended a breakfast in Dineen Hall hosted by Christopher M. Sedore, senior vice president for enrollment management, and William C. Banks, interim dean in the College of Law. The placement officers presented on the nature of IIE's relationship with the Fulbright Program and the role of universities, like Syracuse, in the placement of foreign Fulbright grantees.
The visit also included a tour of Main Campus, a briefing by staff at the Lillian and Emanuel Slutzker Center for International Services, and small group meetings with academic programs and departments. The day concluded with a reception inviting current Fulbright grantees pursing graduate programs and visiting research studies at Syracuse University. The University is host to over 50 foreign Fulbright grantees from 34 countries enrolled in 7 of the 11 graduate schools and colleges.
Amy Sloane-Garris, executive director of Graduate Enrollment Management, assisted in organizing the visit and said "the Fulbright officers were simply thrilled with the level of engagement provided throughout the day and left understanding the vast opportunities for their foreign students at Syracuse University."