Campus & Community
Orange After Dark Celebrates 5th Anniversary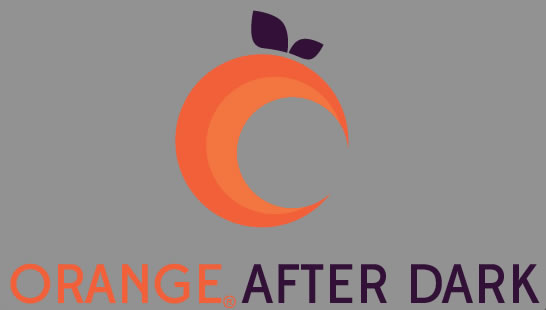 Now in its fifth successful year of late-night programming, Orange After Dark (OAD) has brought students cosmic bowling, a murder mystery dinner and inclusive movie screenings. And there is plenty to come in the months ahead.
"We're really excited to bring back events that are familiar favorites as well as some diverse new events we think will appeal to many students," says Courtney Jones, assistant director in the Office of Student Activities and coordinator of OAD programming. "We offer our off-campus events, which include transportation, for $3 and all of our on-campus offerings are free. We hope this makes it possible for even more students to take advantage of this exciting series of programming!"
Five years ago, the Office of Residence Life (ORL), with co-curricular funding from the Division of Student Affairs, organized the first pilot program of six late-night events and the venture became an immediate success. Realizing this should be a staple of the student experience, Robin Berkowitz-Smith, associate director in the Office of Residence Life, and Dave Sargalski, director of the Office of Student Activities, teamed up to ensure it would be. Each year since, many events continue to sell out and attendees number in the hundreds. Though OAD programming initially began with a lot of functions off campus, it has expanded each year to now include a number of events on campus as well. This allows for a much larger number of students to take part in these exciting opportunities to bond with one another outside of the classroom.
In the past, OAD hoped to increase the work it did with student organizations so students had a voice in the process. This year, the Student Association felt it was time to assist with that endeavor and has provided funding to enhance programming. "The Student Association placed a vote of trust in OAD this year and they didn't disappoint; they have delivered the most robust programming schedule I've ever seen in a college setting," says Phil Kramer, Student Association comptroller. "It's bringing students together in a way little else can. The results are phenomenal."
Thus far, fall 2015 events have included:
Cosmic bowling
Premier viewing of "The Late Show with Stephen Colbert"
Murder Mystery Dinner
Wonderworks
"Inside Out" Inclusive Screening
And what is left for fall? Plenty! (Remember that events start at 10 p.m. unless otherwise noted.)
"Pan" and "Steve Jobs" Movie Premieres on Thursday, Oct. 8
Get Air! Trampoline Park on Friday, Oct. 16
Dodgeball on Saturday, Oct. 17, in Flanagan Gym
Fright Night at the Fair on Friday, Oct. 30 (begins at 10:30 p.m.)
Laser Tag and Glow Golf on Friday, Nov. 6, in Flanagan Gym
Ropes Course and Bubble Soccer on Saturday, Nov. 7, in Flanagan Gym
Dave & Buster's on Thursday, Nov. 12 (begins at 10:30 p.m.), at Destiny USA
Broomball on Friday, Nov. 13, at Tennity Ice Pavilion
"Hunger Games: Mockingjay Pt.2" Premiere on Thursday, Nov. 19 (10:30 p.m.), Destiny USA's Regal Cinemas
Ben Seidman Comedy Magician on Friday, Dec. 4, in Schine Underground
Pancake Breakfast "Stressbuster" on Sunday, Dec. 13, in Schine Dining
In addition to the list of events above, OAD offers other continuous programming for students throughout the semester. Through a partnership with University Union, the Midnight Movie Series provides screenings of some of the year's best Hollywood blockbusters. Movies are shown in Gifford Auditorium on Saturdays at 11:30 p.m.
Additionally, through collaboration with Recreation Services, Late Night at the Gym is in full swing, running until Dec. 12. This means that students are able to visit Archbold, Flanagan and Women's Building gyms, along with the Tennity Ice Pavilion, from 10 p.m. to 1 a.m to participate in some exciting and diverse activities. This semester's list includes: open volleyball, meditation relaxation, salsa and merengue, yoga, indoor soccer, open recreation and, of course, ice skating. Best of all, all activities are free.
The full list of events can be accessed by visiting the Orange After Dark website. The complete schedule of Late Night at the Gym activities can be found online.
OAD is excited about a new, easy way for students to get updated information about all events. You can now download the SU Guides App to access the OAD Guide with full event details and ticket information.
Orange After Dark is also on Twitter: @OAD_SU #OrangeAfterDark