Campus & Community
Campuswide Survey Will Address Learning, Living, Working Environment
Work is under way to prepare a survey in spring 2016 of all students, faculty and staff to assess the climate at the University and elicit data that can be used in developing a more inclusive learning, living and working environment.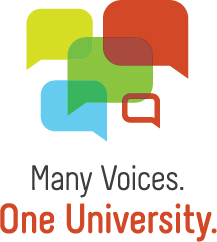 The plan for the climate survey comes after nearly a year of research and analysis by a core committee of University staff, as well as a recommendation by the Chancellor's Workgroup on Sexual Violence Prevention, Education and Advocacy. The survey will be comprehensive and help in identifying the scope and nature of multiple areas of campus life, including sexual and relationship violence.
"We had a number of options for proceeding with a campus climate survey," says Rebecca Reed Kantrowitz, senior vice president and dean of Student Affairs. "After discussion with student leaders, it was determined that administering a more comprehensive survey that assessed gender-based violence, alcohol and other drugs, safety and other issues on campus would be more beneficial in determining the holistic climate on campus."
Kantrowitz is co-chair, with Elizabeth (Libby) Barlow, SU assistant vice president for institutional research and assessment, of the 14-member Climate Assessment Planning Committee—comprising a cross-section of undergraduate/graduate students, faculty and staff.
The committee has been working closely with project consultant Susan Rankin, principal of Rankin & Associates Consulting, senior research associate in the Center for the Study of Higher Education and associate professor of education in the College Student Affairs Program at Pennsylvania State University, who has conducted institutional climate studies at more than 130 institutions across the country.
Rankin and committee members have been meeting over the past several months to develop the survey process and sample questions. Additional questions will be considered based upon information garnered from a series of student/faculty/staff focus groups that will be conducted on Monday, Oct. 26.
In addition, a survey application is being prepared for submission to the University's Institutional Review Board (IRB). Pending IRB approval, the survey will open in February and will be administered to students, faculty and staff by Rankin & Associates. The survey will be both confidential and anonymous; no information will be collected that personally identifies respondents, and no responses will be reported for groups if the groups are below a certain size.
"The survey and associated process are designed with action as a priority," says Barlow. "Collecting survey data is just one part of a process that will continue on to include careful analysis and consideration of the responses, and follow-through to identify and map out a plan for implementation of action items."
Rankin & Associates will submit a final summary report to the University in fall 2016.
For more information on the survey, visit the project website.