Campus & Community
SU Contemplative Collaborative Hosts New Group for Grad Students and Graduate Instructors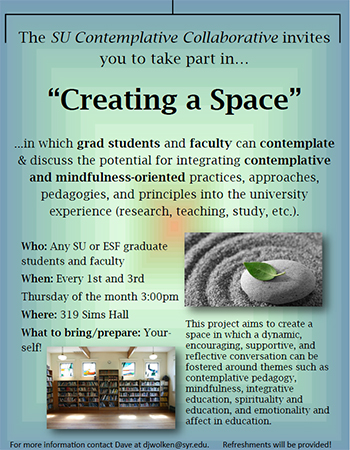 The subgroup interested in exploring contemplative opportunities for graduate students at SU is pleased to announce that we are launching our first project, "Creating a Space," with the first meeting/gathering Thursday, Oct. 1, from 3-4:30 p.m. in 319 Sims Hall. The group will continue to meet same time and place on the first and third Thursday of each month during Fall semester. Attendees can come every week or whenever they are able. No specific commitment is necessary.
"Creating a Space" is a "group" open to any SU/ESF grad student and instructor who is interested in exploring and/or helping to establish a contemplative presence on campus, in any number of forms. There is no set agenda for each gathering; rather, the space will function as an opportunity for people to bring their thoughts, ideas, questions and experiences to the table, to be collectively reflected upon in a supportive, encouraging, engaging, and—crucially—contemplative manner. In short, the hope is that by gathering in this way, both the content and process of the meetings will be characterized by the broad and inclusive notion of contemplation.
In that spirit, we encourage interested students and instructors to approach these meetings not as another task or agenda item to add to an already long to-do list, but rather as a space expressly created for the purposes of decompressing from the demands of grad education life and contemplating how to meet those demands in a more holistically healthy and sustainable way.
Any students or instructors who cannot attend at this time but are interested, can contact Dave at djwolken@syr.edu, as we are thinking of adding an additional meeting time.
Contact: David J. Wolken
SU Contemplative Collaborative
402-707-6700
djwolken@syr.edu