Campus & Community
Seminar Gives Students Chance to Reflect on Study Abroad Experience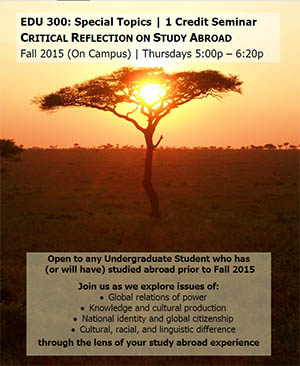 For many students, their semester or year abroad is a life-changing experience. A new course in the School of Education is exploring how this experience affects the world view of students who have returned from their study abroad experience.
EDU 300, "Critical Reflection on Study Abroad," meets Thursdays from 5-6:20 p.m. and is still accepting new enrollees. The issues explored will include:
global relations of power;
knowledge and cultural production;
national identity and global citizenship; and
cultural, racial and linguistic difference
through the lens of the study abroad experience.