Campus & Community
Employee Appreciation Day Planned Sept. 19
All employees are invited to participate in the University's Employee Appreciation Day at the Carrier Dome on Saturday, Sept. 19, when the Orange football team hosts Central Michigan. Kickoff is at 12:30 p.m. All University employees attending the game are eligible to receive a game day gift, a concessions coupon for a free hot dog and drink, and free parking in the Skytop parking lot.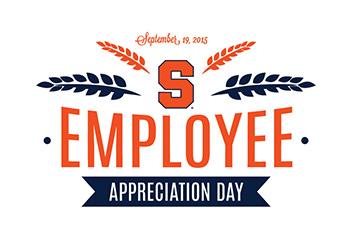 University employees are invited to purchase up to four tickets to the game at $5 each. They also may order up to four free youth tickets as part of that day's "Take a Kid to the Game" promotion, which enables children 12 and younger to attend the game free when accompanied by an adult.
To order your Employee Appreciation Day tickets online and for more information about the special event, visit the Office of Human Resources website at http://www.humanresources.syr.edu. The deadline for ordering tickets is Wednesday, Sept. 16.
The concessions coupon and parking passes (for those without a University permit) will be available at the Office of Human Resources in the Skytop Office Building during business hours from Thursday, Sept. 10, through Friday, Sept. 18. Employees should bring their game tickets with them to HR when they come to pick up their food coupon and parking pass. The tickets can be downloaded and printed at home.
For help ordering tickets and for answers to questions about Employee Appreciation Day, contact Sarah McAndrew in Human Resources at slmcandr@syr.edu or 315-443-2364. If you have questions about football tickets, please call the Carrier Dome Box Office (315-443-2121, and press 0).