Campus & Community
Deadline Approaching for Mobile Device Evaluation and Transition
As previously announced, the University adopted a new Telecommunications and Mobile Devices Policy and has been working toward compliance and transitioning users ahead of the Sept. 30 deadline.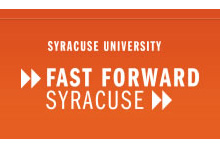 The new policy named AT&T the preferred cellular provider and seeks to increase data security and plan flexibility, while reducing University costs.
Since July, supervisors have identified faculty and staff members whose roles with the University require them to have a University-provided cellular smartphone and/or cellular-embedded tablets or laptops. Consolidating vendors should help the University realize an annual savings of approximately $250,000 and allow for more effective management of data plans.
"We've had a good response to the program since the July implementation," says Al Weinberger, senior director of technical systems and services for the Division of Advancement and External Affairs and a telecom initiative team member. "Moving people toward policy compliance will help manage the mobile device costs dramatically."
Mobile Devices
Recent campus-wide stakeholder surveys revealed a nearly even split between current cellular providers Verizon and AT&T, resulting in a significant amount of overlap and unused minutes every month. As part of this new policy, the University transitioned to AT&T as the single vendor unless a specific business case can be made for an individual user to use a different carrier. AT&T was selected by the team because of its plan flexibility and greater cost savings potential.
The Telecom Initiative team also created a cellular measuring rubric and usage guideline, which can be found within the policy, to help identify which positions should qualify for a University-provided cellular smartphone and/or a cellular-embedded laptop or tablet. The scoring rubric (Cell Scoring Sheet) has been used by college and department leaders to evaluate their unit's overall current cellular device costs and whether modifications are necessary.
Sept. 30 is the deadline for the following Telecommunications actions:
Transition University-provided cell phone number and device to a personally funded cellular plan (for individuals who do not qualify for a University-provided device).
Transition qualifying cellular users to AT&T through a faculty or staff member's IT department.
Eliminate redundant cellular service devices (Utilize one assigned device per person that has cellular service enabled. If a user has a tablet and smart phone, the tablet will utilize the smartphone for Internet connectivity).
For additional information or clarification, or to submit a completed scoring rubric, please contact Al Weinberger at 443-5168.