Urban Cinematheque 2015 to Feature Arts Organizations and 'Mad Max: Fury Road'
Urban Video Project (UVP) and Light Work will present Urban Cinematheque 2015, the fourth installment of this successful end-of-summer event pairing a free outdoor film with an arts and culture fair on Friday, Sept. 4, from 7-10 p.m. The mission of Urban Cinematheque is to create a social space for the broader Syracuse community and the Syracuse University community to meet and engage with the thriving local arts scene.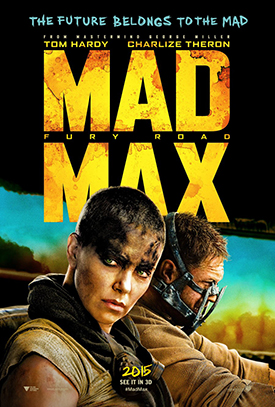 This year's film selection will be George Miller's critically acclaimed 2015 film "Mad Max: Fury Road," starring Charlize Theron and Tom Hardy. Using its extra-large high definition venue projector, UVP will project the film onto the façade of the iconic Everson Museum of Art, making for a spectacular film screening in a setting truly unique to Syracuse.
This year's Urban Cinematheque boasts over 30 different participating arts and cultural organizations, including the Everson Museum of Art, 40 Below Public Arts Task Force, Light Work, Point of Contact Gallery, La Casita, Community Folk Art Center, The Redhouse, SU Art Galleries, Syracuse Stage, CNY Arts, the Delevan Center, SALT Makerspace, Landmark Theatre, Syracuse Improv Collective, Apostrophe'S Gallery, Syracuse International Film Festival, LadyFest Syracuse, Syracuse In Print, Connective Corridor and Urban Video Project, among others.
Each participating organization will have a representative on hand with information about upcoming events, exhibitions and opportunities to become involved, as well as interactive art experiences for the audience to engage with. Additional planned festivities include multiple (pay) food truck vendors, including Toss N' Fire Pizza, Recess Coffee & Roastery and Byblos.
The entire event is free and open to the public. Free popcorn and lemonade will be provided. Audience members who are able to do so are advised to bring blankets or portable chairs. Limited seating will be available on a first come, first served basis. Street parking, as well as pay parking lots, are ample in the immediate vicinity.
Charter buses will run every 15 minutes between Schine Student Center (outside the University Place entrance) on the Syracuse University campus and the Everson Plaza from 7:30-10:30 p.m. The event may also be accessed for free via the Centro Connective Corridor bus line.
Urban Cinematheque 2015 is presented in partnership with the Everson Museum of Art, The Oncenter, Onondaga County Office of the County Executive and the Connective Corridor.
Urban Cinematheque 2015 is made possible through the generous support of Syracuse Cooperative Federal Credit Union and Central New York Community Foundation; with additional support from Syracuse New Times, Visual Technologies and The OnCenter.