Colvin Street Reopened After Accident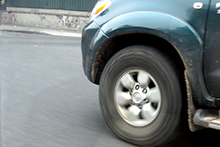 (Updated as of 3:45 p.m.)
DPS reports that Colvin Street has been reopened following an accident earlier today.
(Earlier report)
A traffic accident this morning has led to the closure of Colvin Street between Comstock and Westmoreland Avenues. There may also be delays to bus service on South Campus as a result. The accident involved a Physical Plant truck. There were no injuries reported. Traffic from South Campus will be allowed to exit via Skytop Drive, but incoming traffic is being rerouted around the accident scene. Road closures are expected to be in place for at least the next few hours.