Campus & Community
Career Services to Recruit Student Ambassadors
Career Services is launching the application for the third cohort of Student Ambassadors for the 2015-2016 academic year. Students can apply through this OrangeLink survey through July 31.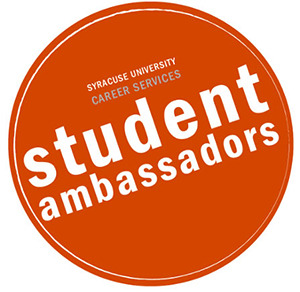 Career Services Student Ambassadors volunteer to help connect Career Services with Syracuse University students to enhance and raise awareness of the Career Services office and its programs. The program involves enthusiastic Syracuse University students from all colleges and all years.
"If I had to wrap my experience in a nutshell, I am glad I received the opportunity to serve as an ambassador," says Janak Khilnani, a graduate student in the iSchool and a 2014-2015 student ambassador. "It allowed me to effectively communicate, think on my feet, be adaptable due to the diversity of opportunities, multitask as I had to balance my academics and other on-campus roles, grow as a team member and a leader, motivate myself and others to succeed, be innovative and think critically while planning and managing events attended by tens to thousands of individuals.
"I am grateful to the Career Services team and a major chunk of my success goes to them. I have been fortunate to have constant support from them in accomplishing my goals," Khilnani adds.
Besides connecting with other students and making them aware of the resources available to them through Career Services, the ambassadors also benefit from ongoing professional and career development, growth of workplace skills and a professional network of the greater University community and thousands of employers and alumni across the country.
"The Student Ambassador Program is a great way for students to develop skills that will translate well into opportunities after graduation while cultivating relationships with alumni, employers and Career Services staff," says Christina Faulkner, career advisor at Career Services.
Students of all years and majors are encouraged to apply. Career Services encourages all departments and colleges to recommend this opportunity to students who would be great Student Ambassador candidates.
For more information, contact Magnolia Salas at jmsalas@syr.edu or 315-443-3616.