Campus & Community
Reminder: Tickets for Syracuse University Day at Citi Field Available Until Game Day on June 28
A reminder that tickets for Syracuse University Day at Citi Field will be available until game day, which is June 28. If you would like information on bus rides from campus or any other details, email sumets@syr.edu. Tickets for the SU section can be purchased directly from the Mets at www.mets.com/syracuse.
The New York Mets and Syracuse University Alumni Association have teamed up to bring Syracuse University Day back to Citi Field on Saturday, June 28. This event typically draws over 1,000 alumni and friends, though last year we broke the 2,000 barrier thanks to the retirement of Derek Jeter from the New York Yankees.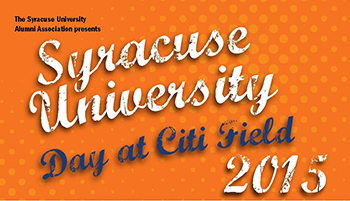 Game time is set for 1:10 p.m., when the New York Mets take on the Cincinnati Reds. SU Day is sponsored by the Syracuse University Alumni Association in conjunction with Joseph I. Lubin House which is currently celebrating its 50th anniversary.
Ticket prices are $25 (upper deck), $45 (field level center field), $60 (include picnic, field-level center field seats near picnic area) including all fees and an SU Mets cap given out on game day. Purchase your tickets online. On the menu that day are hot dogs, chicken tenders, French fries, popcorn and non-alcoholic beverages, while beer will be available for purchase.
The main gate will open at 11:10 a.m., while all other gates, including the bullpen gate by the picnic area, are set to open at 11:40 a.m. The picnic starts at noon in the Bullpen Plaza picnic area near centerfield and runs until 1:30 p.m.
On this fifth annual SU Day, the national anthem will be sung by Setnor School of Music students Megan Murphy '18 and Libby Weber '18. Otto will also be in attendance and mixing it up with Mr. Met.
"The largest crowd that Libby and I have performed for was at the Dome," says Murphy. Citi Field holds up to 45,000 fans, which could be a bit intimidating but these two seniors don't seem too daunted. "It will certainly be challenging to face such a big audience, but we are so excited to sing at Citi Field. It is an iconic venue, and an honor and a privilege to sing for the SU and Mets fans. We look forward to a fun day, and a win for the Mets."
All those buying tickets through SU will receive a commemorative SU Mets cap on game day. For those coming from the Syracuse area, round trip bus transportation from Manley Field House, with an additional stop in Binghamton, will be provided for $50 per seat. You can get complete details on the event site. For more information, email sumets@syr.edu. Again, Tickets are available at www.mets.com/syracuse.