Campus & Community
New Mobile App Launched for Syracuse Welcome 2015
The Office of First-Year and Transfer Programs (FYTP) has announced that Syracuse Welcome 2015 has gone mobile. This year, students and families can download the Syracuse University Guidebook app on their smart phones or tablets and access the Syracuse Welcome 2015 Guide. The guide provides users with the ability to personalize schedules, to create individualized to-do lists, browse campus maps and receive important reminders about arriving to campus.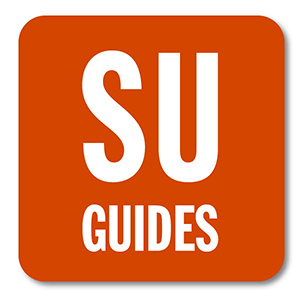 In collaboration with Enrollment Management and several campus departments, FYTP identified a need for incoming students to create a personalized experience from their matriculation through their first six weeks of classes. "Having Syracuse Welcome 2015 orientation information available through our new app will make it easy for students to access information and manage their schedule as they navigate their first few days on campus," notes Carrie Grogan Abbott, director of FYTP.
With the Syracuse Welcome 2015 Guide, users can view events happening on campus, access the New Student Checklist, meet student Orientation Leaders, view a campus directory, learn Syracuse University facts and more.
"The app offers a number of great features, so we encourage our colleagues across campus to not only share this important resource with new students and their families, but to also download the app for their own use," says Abbott.
To access the guide, users can go to the iTunes App Store or the Google Play Store and search for "Syracuse University Guides," visit the Guidebook SU Guides page to have the download link sent to you via text message, or view the guide on the web through the SU Guides mobile site. Additional guides from various campus departments will be available later this summer. Incoming students will still receive a printed Syracuse Welcome Schedule and Guide.
Syracuse Welcome 2015 begins on Thursday, Aug. 27. To learn more about Syracuse Welcome and the Office of First-Year and Transfer Programs, visit http://newtosu.syr.edu.