Dean, Faculty, Student Reps Named to Board of Trustees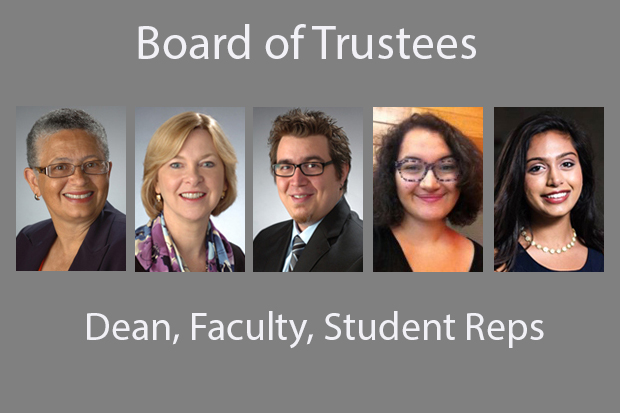 Chancellor Syverud has named a new dean representative to the Board of Trustees, and the University Senate Academic Affairs Committee, in consultation with the provost and the chairperson of the University Senate Agenda Committee, has selected a new faculty representative. Each will serve a two-year term.
Bethaida "Bea" González is the dean representative to the Board.
As dean of University College, González supervises quality programming for continuing and part-time education, including credit and non-credit undergraduate and graduate studies, the English Language Institute, the Veterans Resource Center and Summer@Syracuse programs. As special assistant to Chancellor Syverud, González focuses on student retention and success, strategic planning, day-to-day services, and policies and procedures focused on student learning, success and support.
González has more than 38 years of experience in higher education; 30 of which have been in continuing education. She also has a long and distinguished record of public service. She has been elected to public office three times. In 2001, she became the first Latina to be elected president of the City of Syracuse Common Council and served two terms. She also served on the Syracuse City School District's Board of Education. González received a bachelor of political science degree from SUNY Binghamton and a certificate in public administration and a master of arts degree from the Maxwell School of Citizenship and Public Affairs.
Mary E. Lovely is the new faculty representative to the Board. The Melvin A. Eggers Economics Faculty Scholar and Professor of Economics at the Maxwell School of Citizenship and Public Affairs, Lovely also serves as chair of the International Relations Program.
Lovely is a senior associate of the Moynihan Institute for Global Affairs and a research network fellow of CESifo, Munich, Germany. Her current research programs investigate the consequences of changing ownership structures in Chinese domestic enterprises, the role of foreign ownership and processing trade in the pollution intensity of Chinese industries, and the link between wages and access to domestic and foreign markets. Her recent papers focus on innovation in the Chinese solar equipment industry, the pollution intensity of Chinese exports, differences in China's integration into American and Japanese production networks, and the influence of market access on the geographic dispersion of manufacturing wages. She has recently completed work on the role of provincial differences in environmental policy and labor conditions in directing foreign direct investment flows to Chinese provinces. Her courses for Syracuse University focus on international economics and the supervision of graduate and undergraduate research projects. She earned a Ph.D. in economics from the University of Michigan and an M.C.R.P. degree from Harvard University.
Three student representatives to the Board have also been named. The undergraduate representatives were elected by the Student Association and the graduate student representative is the incoming Graduate Student Organization (GSO) president.
Can Aslan is the new graduate student representative. A second-year international doctoral student in the bioengineering Ph.D. program in the Department of Biomedical and Chemical Engineering, Aslan received a bachelor's degree in biotechnology from the University of Nottingham in England. He received a master's degree in pharmacology from Istanbul University in Turkey. Aslan has worked in the pharmaceutical industry and volunteered with nonprofit organizations as a search and rescue personnel member. He is also an animal rescue volunteer. Aslan has served on various committees alongside the GSO Senate and the University Senate, and recently formed the Engineering and Computer Science GSO (ECS-GSO) that will bring together and serve the 1,200 College of Engineering and Computer Science graduate students.
Nedda Sarshar is one of two new undergraduate representatives. A junior international student from Toronto, Canada, Sarshar is a dual major in writing and rhetoric and citizenship and civic engagement, pursuing a minor in English and textual studies. Sarshar currently serves as the president of the Residence Hall Association and is a member of the community service fraternity Alpha Phi Omega. Previously she served as director of civic engagement for the Residence Hall Association and as an assembly representative for the Student Association.
Aysha Seedat is the newly elected Student Association president. A policy studies major in the College of Arts and Sciences and the Maxwell School, she has a particular interest in education policy. She recently participated as a panelist at the seventh annual Conference on Equity and Social Justice. Born in Manhattan, Seedat was raised in Bergen County, N.J. Prior to being elected Student Association president, she was the director of student life for the Student Association. Seedat is a sister of Sigma Delta Tau sorority and a member of OrangeSeeds, a leadership empowerment program in which upperclass students work with first-year students to help them get involved on campus.
Chancellor Kent Syverud says, "I know the collective passion of this group, and their shared love for our University, is going to propel us forward. I am eager to work with the entire Board of Trustees and to especially hear from the new voices at the table. This is an exciting time to be involved with the University."