Business & Economy
MBA@Syracuse Named to Princeton Review's Top 25 Online MBA Programs
MBA@Syracuse, the online MBA program at the Martin J. Whitman School of Management, has earned a #18 ranking on the Princeton Review's new list naming the top 25 online MBA programs for 2015. The list can be found at http://www.princetonreview.com/online-mba.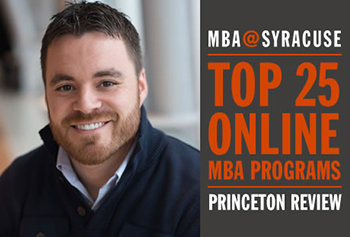 MBA@Syracuse, formerly iMBA, is Whitman's newly enhanced online M.B.A. degree program delivered in partnership with 2U Inc. (NASDAQ: TWOU). The program launched in January 2015 and includes live weekly classes taught by Whitman's award-winning faculty. Between classes, students also engage in immersive course content developed by Whitman faculty, from documentary-style lessons to video case studies to interactive learning tools. Course content is designed to raise questions, describe theories and inspire ideas for later discussion. Students also attend multiday domestic and international residencies, providing them with the tangible experience and real-world connections they need to succeed in today's competitive business environment.
"Whitman is committed to delivering an online M.B.A. program that matches the quality and rigor of our residential program, and we are happy to receive this recognition, which is based on a direct survey of our students and graduates," says Amy McHale, assistant dean for masters programs and program director of MBA@Syracuse.
The list is the first ranking of online M.B.A. programs by the Princeton Review and is based on both surveys of administrators at the schools and of students enrolled in the schools' online M.B.A. programs.
The Princeton Review chose the schools for the list based on its surveys in 2014 of 80 institutions offering online M.B.A.s and of about 2,000 students enrolled in the online M.B.A.s, plus graduates of the online programs. Data points were weighted in more than 60 unique fields to tally the final list. Criteria focused on five areas: academics, selectivity, faculty, technical platforms and career outcomes.
Applications for the next MBA@Syracuse cohort are due by July 31. Future cohorts are scheduled to begin every three months. For details on the program, admission criteria and cost of attendance, visit http://onlinebusiness.syr.edu/mba or contact an admissions counselor at admissions@onlinebusiness.syr.edu or 844-797-4622.