Media, Law & Policy
History Students Publish New Edition of the Journal Chronos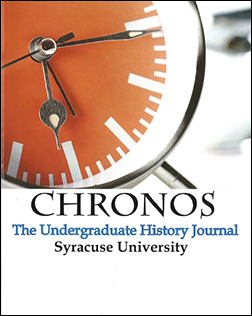 Undergraduate students in the Department of History in the Maxwell School have published the latest issue of Chronos: The History Undergraduate Journal (Vol. 9, Spring 2015).  The only undergraduate journal on campus, Chronos is a collection of scholarly papers chosen by an executive board of history students, headed this year by editors Brittany Beyer '15 and Clare Keaney '15.
The topics of the papers in this year's edition range from Nazi Germany, to eugenics, to shipwrecks, to priceless antiquities. They reflect the varied interests of Syracuse University students as well as the vast array of courses offered by the history department. The papers include:
"The Diverse Pursuit of Outsiders in the Third Reich" by Katarina Anderson '17
"SS Republic: History and the Human Element," by Beyer
"Exploration of an Aegis Amulet with the Head of a Feline Goddess," by Stephanie Breed '15
"Ambiguities of Life in the Soviet Union and Nazi Germany during the Interwar Period," by Wilfredo Castillo '16
"Eugenics and Forced Sterilization in Oregon," by Audrey Hart '15
"Men of their Era," by Taylor McKinney '18.