Campus & Community
Celebrating the 13th Annual Rainbow Banquet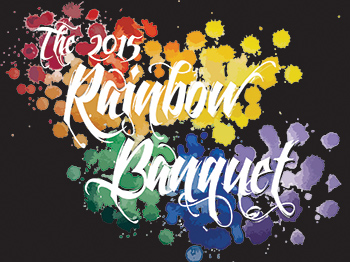 The LGBT Resource Center, within the Division of Student Affairs, hosted the 13th Annual Rainbow Banquet on Thursday, April 23, at the Sheraton Syracuse University Hotel Regency Ballroom. The sold-out event brought together students, faculty, staff and community members to celebrate the year, as well as enjoy an evening of great food, dancing and a performance.
The Rainbow Banquet aimed to bring students, faculty and staff together with youth and LGBTQ activists in the greater Syracuse community to celebrate the year and recognize their achievements. The event featured the 2015 Graduate Recognition, the Rainbow Recognition Awards, a Graduating Student Keynote, a Graduating Student Video and the Queer Year in Review Slide Show.
"The Rainbow Banquet is a wonderful celebration that serves as a great way to close the year," says Chase Catalano, director of the LGBT Resource Center. "It's a great opportunity to show support and honor achievements."
"The Rainbow Banquet allows students to see the LGBTQA representation on staff, which is validating and affirming," says Molly Mendenhall, a senior and president of Pride Union.
This year's Rainbow Recognition Award winners were:
Maria Brown, Deb Coolhart and Farrell Greenwald Brenner for the Awareness Award
Montiniquë Denice McEachern and Erin Rand for the Community Building Award
Joseph Mudge and Donasia E. Sykes for the Integrity Award
Koy Ian Adams and Mateo P. Diaz for the Social Justice Award
Tya Smith for the Emerging Leader Award
For questions or more information, please contact lgbt@syr.edu.