Campus & Community
Student Ratings Opening on April 20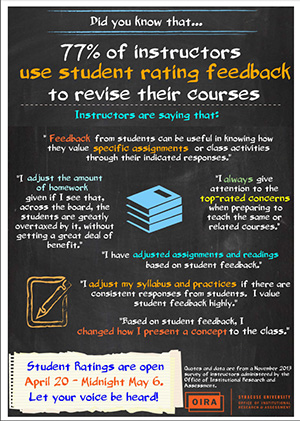 Loved your history class? Have a suggestion for your art professor? Wish something were done differently in your biology lab? Let your instructors know!
Nearly 80 percent of Syracuse University instructors use the feedback they get from student ratings to revise their courses. Your instructors are listening to what you have to say about their courses. But they can only respond if you let them know what you think.
The online system for Student Ratings will open on Monday, April 20. You will receive an e-mail that day that contains your passcode for the system and the link to the Student Rating website. The system will remain open until Wednesday, May 6.
Most departments use the online system for collecting student ratings. If you do not see a course on your online student ratings page, the course may be using paper evaluations. Paper evaluations will be administered in class, typically at the last class meeting. If you have a question about how student ratings will be collected for a course, check with your instructor.
More information about student ratings at SU is available here. Additional questions should be directed to the Office of Institutional Research and Assessment at oira@syr.edu or 315-443-8700.
Thank you in advance for taking the time to let your instructors and the University know about your classroom experiences.