Health & Society
'Sport and the Pursuit of Healthiness' Multimedia Symposium April 24
On Friday, April 24, Falk College and its Department of Sport Management will host "Sport and the Pursuit of Healthiness," a multimedia symposium on how public health concerns are affecting sports participation and what is being done to make sports safer.  The event, which is free and open to the public, begins at 4 p.m. in Grant Auditorium. No pre-registration is necessary.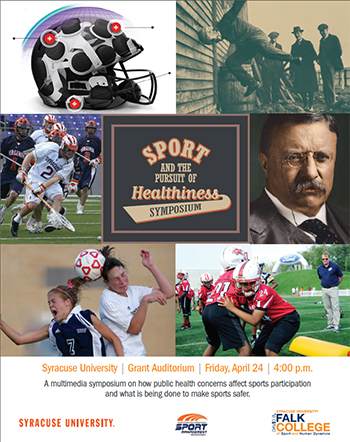 During the symposium, results from a survey of students and parents from 20 states and three foreign countries asking how they decide which sports to play (or not to play) will be released.
"In the 21st century, millions of American children still actively pursue sports, but the fear of head trauma and other debilitating injuries has affected the sports kids play.  A growing number are inactive and idle. Consequently, childhood and adult obesity rates are at record levels," says Dennis Deninger, professor of practice in the Department of Sport Management.
Through video presentations, panel discussions and a question-and-answer session, the event will explore topics including player safety and debilitating injuries from sports, their role in reducing activity levels and long-term effects on those who are injured and current youth sports participation, youth activity levels and the growing inactivity/obesity epidemic, among others. Panelists will include:
Nicole Intondi-Halloran, New York State Public High School Athletic Association Safety Committee, certified athletic trainer, Solvay School District
Denny Kellington, head athletic trainer, Syracuse University Football Team
John Parsons, director, NCAA Sport Science Institute
Brian P. Rieger, director, Upstate Medical University Concussion Center, assistant professor, Physical Medicine and Rehabilitation, Upstate Medical University
During the Spring 2015 semester, "Sport and the Pursuit of Healthiness" has been an independent study project for five undergraduate students, led by Deninger.  Hailey Billitier, Michael Ennis, Will Gerhard, Michael Gutman and Seth Kornfeld began their research in the Fall of 2014 as part of the "Sport in American Society" course offered by Falk College.
For more information, contact the Department of Sport Management at 315-443-9881.