National Pan-Hellenic Council Hosts 'Men on the Rise' Retreat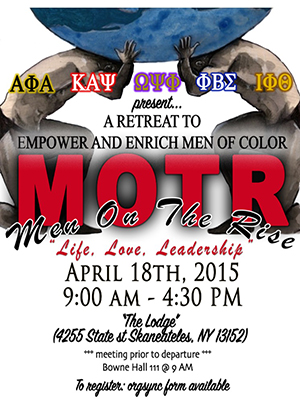 On Saturday, April 18, the National Pan-Hellenic Council (NPHC) will host its "Men on the Rise" retreat at The Lodge in Skaneateles. The theme of this year's retreat is "Life, Love and Leadership" and will focus on academic excellence, racial identity, personal health, identity as men and building from conflict.
"'Men on the Rise' is a program focused on empowering, enabling and targeting the fullest potential of young men of color," says Ronald Taylor, a senior and chair of the committee organizing the event on behalf of the NPHC. "The main goals were to give students a space to express themselves in the fullest and most holistic way, in a supportive environment."
"Men on the Rise" started in spring 2013 as a way to give men of color at Syracuse University the chance to step out of their environment and decompress their experiences at a predominantly white institution.
"Since its start, 'Men on the Rise' has grown into a summit focused on the full experience of men of color from entry to exit," says Taylor.
Students interested in attending can register through the OrgSync website.