Arts & Culture
Karen Bakke's 'Queens of New York' to Open at Genet Gallery
Karen Bakke, associate professor of fashion design in the College of Visual and Performing Arts' (VPA) Department of Design, will present a series of drawings of drag queens, many of whom are from the Syracuse community, at the college's Sue and Leon Genet Gallery.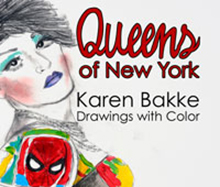 "Queens of New York: Karen Bakke Drawings with Color" will be on view April 17-May 29 at the gallery, which is located on the first floor of the Nancy Cantor Warehouse, 350 West Fayette St., Syracuse. An opening reception will be held on Friday, April 17, from 7-9 p.m. The exhibition is free and open to the public.
A West Coast transplant, Bakke regularly exhibits her large drawings and has her jewelry and other accessories in galleries from the East Coast to the Midwest. Learn more at http://www.karenbakke.com.
Gallery hours are Monday-Friday, noon-4 p.m. For more information, contact the Department of Design at design@syr.edu. The exhibition is made possible by a grant from VPA.