Campus & Community
Jewelry and Metalsmithing Program Presents 'The Smiths'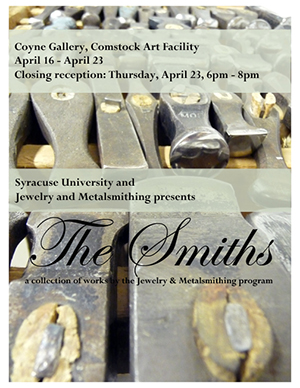 The jewelry and metalsmithing program in the College of Visual and Performing Arts' Department of Art is presenting "The Smiths," a collection of work by students in the program, through Thursday, April 23, at the Coyne Gallery, Comstock Art Facility, 1075 Comstock Ave. A closing reception will be held on April 23 from 6-8 p.m.
The Department of Art offers bachelor of fine arts and master of fine arts degree programs in jewelry and metalsmithing. Students in the programs make objects that range from the highly functional to the purely expressive using traditional and nontraditional techniques.
The gallery is open Monday-Friday, 9 a.m.-5 p.m. For more information, contact Jaroslava Prihodova at jprihodo@syr.edu.