Campus & Community
CSTEP Students Win Honors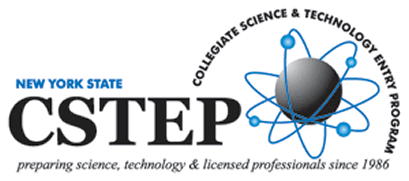 At the Collegiate Science & Technology Entry Program's (CSTEP) 23rd Annual Statewide Student Conference on April 17-19, seven Syracuse University CSTEP students presented their research in oral and poster competitions: JiaJin Lei, Aubrielle Madia, Cindy Xu, Stephen Benn, Ashlee Thibaud, Berlini Narampanawe and John Huang. They competed alongside nearly 200 students representing more than 40 colleges and universities across New York State.
Four SU CSTEP students received honors:
Aubrielle Madia
Oral Presentation
Topic: "Synthesis of Sugar from Cellulosic Materials"
Category: Natural Sciences
Award: Honorable Mention
Ashlee Thibaud
Poster Presentation
Topic: "Sonic Sensitivities of Leukemia Cells with Combinations of Cytoskeletal-directed Agents and with Agents Affecting Membrane Cholesterol Content"
Category: Biochemistry
Award: Winner
Stephen Benn
Poster Presentation
Topic: "Incorporation of Poly-L-Acid (PLLA) to Reinforce the Mechanical Stability Provided by an Electrospun Thermoplastic Polyurethane Sleeve for the Purpose of Stabilizing Bone Defects"
Category: Engineering
Award: Winner
Cindy Xu
Poster Presentation
Topic: "Modification of Hemicellulose Production in Poplar"
Category: Environmental Science
Award: Honorable Mention
Founded in 1986, CSTEP prepares students for successful careers in medicine, law, education, science, technology, engineering, healthcare, accounting and more. CSTEP is active in more than 50 colleges and universities across New York State, and supports students who are New York residents and are underrepresented in STEM fields.