Campus & Community
BFA Senior Art Exhibit to Take Place in Smith Hall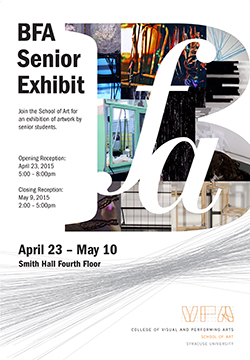 The School of Art in the College of Visual and Performing Arts is pleased to present the 2015 BFA Senior Exhibit, which will take place on the fourth floor of Smith Hall from April 23rd-May 10th with an opening reception from 5-8 pm on Thursday, April 23, and a closing reception from 2-5 p.m. on Saturday, May 9. The show is free and open to the public.
The senior class of artists on view emphasizes reflections on art, contemporary life and the space in between. The exhibit intertwines contemporary modes of presentation with site specifics in a gallery that was constructed by the School of Art specifically for this exhibition. Artists in the show are concerned with the dynamics of space, which is expressed through installation art, sculpture, painting, ceramics, jewelry and printmaking.
The exhibition is curated by Stephanie James, director of the School of Art; Kevin Larmon, professor and program coordinator of painting; and Andrew Havenhand, professor of painting.
For more information about the exhibition, contact Paul Weiner, Undergraduate Representative to the School of Art, at poweiner@syr.edu.
URL: https://www.facebook.com/events/1559442184322433/
Contact: Paul Weiner
School of Art
(303)946-0394
poweiner@syr.edu