Campus & Community
50 Cent to Headline Block Party
University Union will host its annual Block Party on April 24 in the Carrier Dome. The event will follow Mayfest in Walnut Park with doors opening at 6:30 p.m. This year's line up will feature rappers 50 Cent with G-Unit and EDM artist Kygo as co-headliners, with hip-hop duo Rae Sremmurd performing as direct support.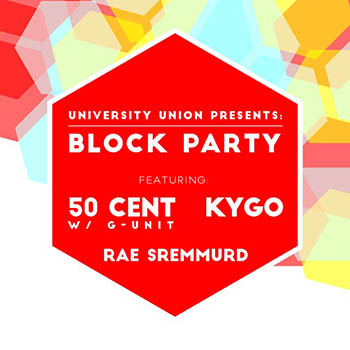 50 Cent exploded onto the music scene in 2003 and has been rewriting hip-hop history ever since. "Get Rich or Die Tryin'," his debut album, made history when it sold 872,000 copies, breaking the record for first-week sales of any major label debut in the entire Sound Scan era. It was a number-one Billboard album for six weeks and was certified platinum nine times by the Recording Industry Association of America. To date, 50 Cent has sold more than 22 million albums worldwide and has received numerous awards and 13 Grammy nominations throughout his career. The enormous success of his music career paved the way for 50 Cent the rapper to become 50 Cent the record company executive. As CEO of G-Unit Records, 50 Cent oversees a stellar roster of music artists, including Tony Yayo and Lloyd Banks, among others, many of whom have garnered multi-platinum status under his aegis.
Tipped by Billboard Magazine as the "the next EDM superstar," Kyrre Gørvell-Dahll, a.k.a KYGO, has gone from bedroom producer to one of the most-hyped electronic artists on the planet in unprecedented time. Having established himself as a household name thanks to his widely popular remixes, sell-out shows in North America and Europe as well as headline performances at festivals including TomorrowWorld and Findings, KYGO signed a worldwide recording deal with Sony Music Entertainment in September. His first original track, "Firestone," released at the end of 2014, has now amassed over 7 million plays across SoundCloud and YouTube and over 40 million plays on Spotify, peaking at number four on the worldwide Spotify chart. With a hotly anticipated album scheduled for 2015, plus a new live show due to be unveiled at Ultra Music Festival, this is only the beginning for this 24-year-old Norwegian prodigy.
After earning the attention of fellow Tupelo native P-Nasty, the brothers behind Rae Sremmurd, Slim Jimmy and Swae Lee, were introduced to multi-platinum producer Mike WiLL, who was instantly impressed by the brothers' energy and the quality of their music, signing the duo as one of the first acts to his new, Interscope-backed label, Eardruma Records. Rae Sremmurd's first single under the Eardruma Records umbrella, "No Flex Zone," serves as an early taste of what Rae Sremmurd will offer fans with their forthcoming debut mixtape, "SremmLife." Scheduled for release this year, the project will be executive produced by Mike WiLL Made-It.
Tickets for Block Party are on sale online at Ticketmaster.com. A student pre-sale for full-time SU and ESF students will run to Friday, April 3, at noon, and will be online only. The public on-sale will start Saturday, April 4, at 10 a.m. The student price is $25 for general admission dance floor access, and $20 for first level general admission and second level reserved seating. The general public price is $30. Each student may order a maximum of two tickets at these special student prices. Please note that additional fees may apply.
For more information regarding ticketing and further event updates, contact Max Lefkowitz and Alli Reich, co-directors of public relations for University Union, at uupublicrelations@gmail.com and follow University Union on Twitter at http://www.twitter.com/uuinsider, and Facebook at http://www.facebook.com/universityunion.