Arts & Culture
VPA Celebrates Arts in April, Partners with Corridor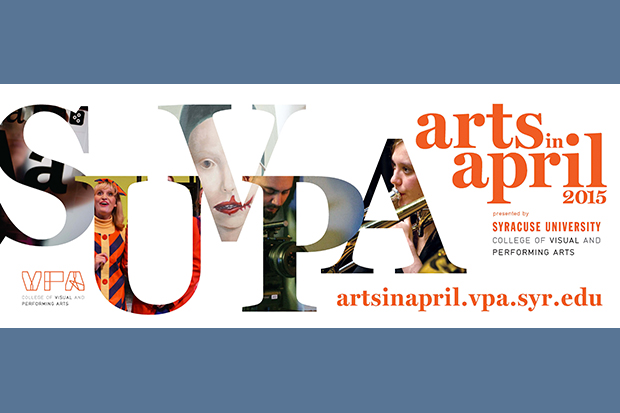 The College of Visual and Performing Arts (VPA) is presenting its second annual Arts in April, a month-long celebration of the VPA community's talents in art, communication and rhetorical studies, design, drama, music and transmedia. The public is invited to join the celebration and view a calendar of events, many of which are free, at http://artsinapril.vpa.syr.edu.
Each spring, VPA bustles with activity, with exhibitions, competitions, presentations, performances and talks by visiting artists and scholars. Many of these events represent a culmination of work by graduating seniors and graduate students.
This year, the college is partnering with the Connective Corridor to promote Arts in April in the local community. Images of VPA students and faculty or their work will be displayed on the Corridor buses throughout the month, and Arts in April promotional materials will be distributed to cultural venues on the Corridor. The Corridor is also partnering with CNY Arts to help promote the events to the regional community.
Highlights of the month include:
steamroller printmaking on the Quad with the printmaking program in the Department of Art;
productions of "Measure for Measure" and "Avenue Q" in the Department of Drama;
the annual senior collection fashion show in the Department of Design;
"Neither Confirmed nor Denied," the 2015 master of fine arts exhibition at Syracuse University Art Galleries;
the White-Denison Presentational Speaking Competition in the Department of Communication and Rhetorical Studies;
the spring concert of Samba Laranja, the Setnor School of Music's award-winning Brazilian ensemble; and
an exhibition of work by first-year students in the Departments of Art and Design.
Arts in April is an initiative of VPA's Faculty Council.