Campus & Community
University Supports Vera House White Ribbon Campaign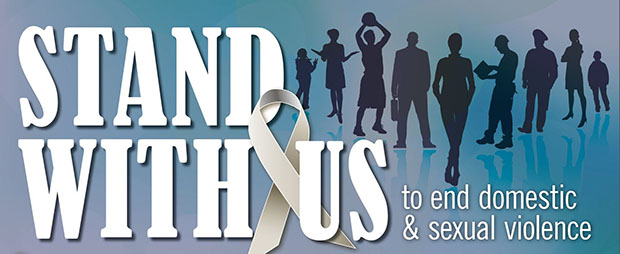 On Friday, March 20, Syracuse University will join in support of the annual Vera House White Ribbon Campaign. The 21st Annual White Ribbon Campaign runs through March 29.
This year's campaign is "Stand With Us," encouraging community members to stand with Vera House to end domestic and sexual violence. The campus campaign aims to raise awareness about domestic and sexual violence, educate the campus community about domestic and sexual violence and resources, and raise funds for programs at Vera House. These efforts on campus are led by the Division of Student Affairs, students and the SU White Ribbon Campaign Team.
"Working as a student co-chair for the past three years on the White Ribbon Campaign has been a very special experience for me," says Ashlee Newman, a senior and three-time co-chair of the campus campaign. "I have been able to work with fellow students as well as administration and faculty on connecting the SU community with Vera House and the wonderful work that they do.
"Over these three years, I have made it a goal to further engage the student body as much as we can," she adds. "I believe that there is much more work to be done in the future; however the progress we have made has allowed us to educate and raise awareness on these difficult topics while giving back to Vera House. I am very proud of these two accomplishments because they allow us to move toward a world without domestic violence and sexual assault."
The committee is organizing a number of events to support the campaign. To get involved, students, faculty and staff are encouraged to participate by:
joining the "Stand with SU" team for the White Ribbon Campaign Kick-Off Walk. On the registration page, click "Register to Walk," select "Join a Team" and pick "Stand with SU." The walk begins at noon in Clinton Square. For those needing transportation, a bus will pick students up at 11:30 a.m. outside Schine Student Center on Waverly. Space on the bus is limited, so please reserve your spot by emailing Bridget M Yule.
purchasing 'No Excuse for Abuse' wristbands, chocolate ribbons, or metal lapel pins. By wearing a white wristband, it means you will not commit, condone or remain silent about domestic or sexual violence. To order these items for your office, department or organization, contact Bridget M Yule.
visiting the student organizations and campus representatives tabling in the Schine Student Center. Support the campaign, learn more about resources available on campus and join the campus community in combating sexual and relationship violence.
In addition, the University hosted a pre-launch event on March 2 during a men's home basketball game. On Monday, Chancellor Syverud, staff, faculty and students also attended the White Ribbon Campaign Breakfast in support of the campaign.
"It is extremely exciting to see the growth in our on-campus efforts, beginning with former Dean Tom Wolfe's strong leadership a number of years ago, spanning to now with this year's pre-launch event at the Carrier Dome," says Paul Ang, a four-time co-chair of the campus White Ribbon Campaign and a master's student in the School of Education.  "In addition to events, education and raising awareness about sexual assault and domestic violence are so important.
"More can always be done, and I think engaging more and more students on campus will help us in our efforts to end sexual assault and domestic violence," he adds.
The Vera House White Ribbon Campaign is led by men and encourages all members of the community to join them in their efforts. This male leadership helps to acknowledge the important contributions men have made to this effort and invites others to take a role.
Vera House Inc. aims to end all domestic and sexual violence, to assist families in crisis, to support those affected by domestic and sexual violence to live safe, self-sufficient lives, to empower women and children, and to promote a culture of equality and respect in relationships.