Arts & Culture
University Celebrates Asian American and Pacific Islander Heritage Month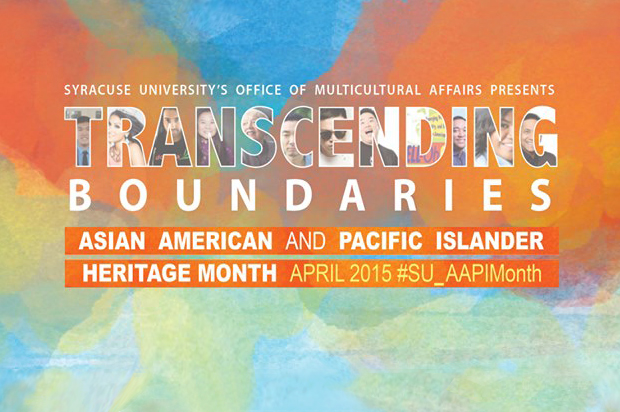 In honor of Asian American and Pacific Islander (AAPI) Heritage Month, the Office of Multicultural Affairs, within the Division of Student Affairs, is hosting a series of events in April in collaboration with students, staff and faculty across campus. The month-long celebration officially begins on Wednesday, April 1, in the Schine Student Center atrium with a table display of student organizations and an Asian-inspired lunch hosted in the atrium at noon.
This year's commemorative speaker is Nina Davuluri, Miss America 2014. Davuluri spent her year in that role traveling across the country to speak on "Celebrating Diversity through Cultural Competency." Davuluri also launched a social media campaign, "Circles of Unity," to encourage constructive and civil dialogue on diversity issues. She was born in Syracuse, and graduated from the University of Michigan with a degree in brain, behavior and cognitive science. Davuluri will speak on Tuesday, April 14, at 7 p.m. in the Joyce Hergenhan Auditorium, Newhouse III. The event is free and open to the public.
Celebrated nationally in May, AAPI Heritage Month honors Asian Americans and Pacific Islanders who have enriched America's history and are instrumental in its future success. AAPI Heritage Month consists of programs and signature events that educate all members of the Syracuse University community about the histories, cultural diversity, contributions and often-underreported challenges of Asian Americans and Pacific Islanders. Syracuse University honors the month in April to celebrate while students, faculty and staff are still on campus together.
This year's planning committee chose "Transcending Boundaries" as the theme for the month.
"We chose this theme because it speaks to the diverse range of our events in April and the stories of our guests for the month, including alumni, activists, artists, educators, public figures, scholars, writers, etc.," says Huey Hsiao, associate director for the Office of Multicultural Affairs. "Their stories reflect the AAPI experience and run counter to stereotypical expectations of Asian Americans and Pacific Islanders in our society. Our commemorative speaker, Nina Davuluri, captures the theme perfectly, because she is challenging people's notion of who Miss America can be."
Other highlights for this year's heritage month celebration include:
April 1: Asian American Comedy Night starring Jenny Yang, 7-9 p.m., Gifford Auditorium
Yang is a Los Angeles-based writer and stand-up comedian who produces the first-ever (mostly) female, Asian American standup comedy tour, "Dis/orient/ed Comedy," and has been a writer and performer on the viral Buzzfeed videos.
April 5: Breaking Through: The Story of MC Jin, 7-9 p.m., Schine Underground
MC Jin is an NYC-based rapper, who started out in the hip-hop rap scene as a seven-time BET 106 & Park winner, but later gained global recognition when he joined Universal Music Hong Kong.
April 8: Anti-Asian Hate Crime Exhibit Unveiling Ceremony, 5-6 p.m., Schine Student Center (across from bookstore display case)
An exhibit in remembrance of the Denny's incident that occurred 18 years ago in Syracuse, in hopes of recognizing and gaining awareness within our community. Follow #SU_AAPIMonth to find out the location of the unveiling ceremony.
April 9: Ayo Technology Skype Engagement, 8-10 p.m., Maxwell Auditorium
The Ayo Technology Skype, presented by Verbal Blend, is an open mic that broadcasts from two remote locations—Syracuse University and SUIS Wan Yuan High School in Shanghai, China—with students performing their original poems.
April 16: Alex Tizon, "Big Little Man: In Search of My Asian Self," 6-8 p.m., 500 Hall of Languages
Alex Tizon, Pulitzer Prize–winning journalist and University of Oregon professor, takes a groundbreaking look at the experience and psyche of the Asian American male in his book, "Big Little Man: In Search of My Asian Self."
April 17: Terisa Tinei Siagatonu Takes the Mic, 7:30-8:30 p.m., Jabberwocky Café, Schine Student Center
At the age of 25, Siagatonu has already established herself as a poet, spoken word artist and arts educator. A Bay Area native, her emergence into the spoken word world as a queer Samoan woman and activist has granted her opportunities to perform on stages ranging from San Francisco's historical Herbst Theatre to the White House.
April 19 and 20:
Bollywood Choreography and Fitness Workshop with Rohan Sheth, BS '09, 3-6 p.m., Women's Building Dance Studio
Paving the Way Alumni Speaker Series – Rohan Sheth, BS '09, 7-8:30 p.m., 500 Hall of Languages

Throughout his career, Sheth, a Newhouse School alumnus, has found a way to incorporate his cultural background and serve the South Asian and LGBT communities. Sheth is currently the master instructor and marketing manager for global Bollywood Fitness brand Doonya. He'll lead a dance workshop (April 19) and share his tips on how to navigate the world as your most authentic self (April 20).
April 21: "American Revolutionary: The Evolution of Grace Lee Boggs"—Screening and Panel Discussion, 4:30-7 p.m., Peter Graham Scholarly Commons (114 Bird Library)
Free documentary film screening about the life of 99-year-old activist Grace Lee Boggs and her involvement in the Black Power, labor, feminist, Asian American and other social movements. Panel discussion with Jun Okada (SUNY Geneseo) and Derek Chang (Cornell University) to follow screening.
April 26: A.S.I.A. Night, 7-9 p.m., Skybarn
Asian Students in America (ASIA) is hosting its annual end-of-the-year cultural show with talents from all across campus.
April 27: Paving the Way Alumni Speaker Series: Vincent Fang, BA '13, 7-8:30 p.m., 207 Hall of Languages
Born and raised in Astoria, N.Y., Fang identifies as an Asian American, a son of immigrants and a political enthusiast. He graduated magna cum laude with a B.A. in political science and policy studies and a minor in Asian/Asian American studies. Fang currently serves as a community liaison for New York City Council Member Margaret Chin.
The full events calendar for AAPI Heritage Month is also available on the Office of Multicultural Affairs web site and available for pickup in Schine Student Center, Suite 105. For more information on AAPI Heritage Month events, please contact Hsiao at huhsiao@syr.edu or 315-443-9676.