Campus & Community
Take Back the Night 2015 Events Run through April 7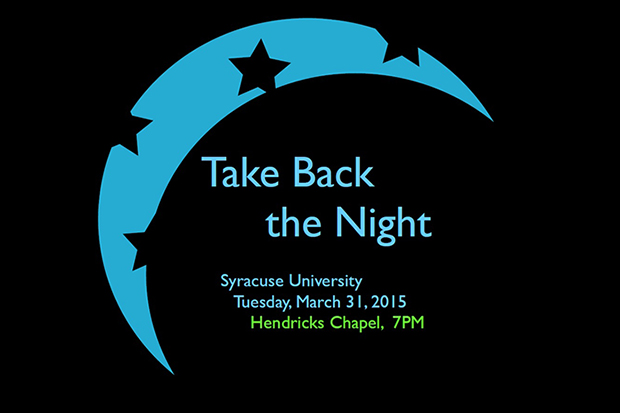 From March 30-31, the Office of Health Promotion, within the Division of Student Affairs, will host a series of Take Back the Night activities and events dedicated to raising awareness about sexual and relationship violence. Members of the campus and local community are invited to take a stand against violence, raise awareness about attitudes that perpetuate violence and discuss ways to work together to create a safer, more respectful community.
"Take Back the Night is an important opportunity for us to come together to speak about sexual and relationship violence and its impact on our community," says Katelyn Cowen, director of the Office of Health Promotion. "We invite community members to join us in taking an active stance and demonstrating their commitment to ending sexual and relationship violence during the Take Back the Night activities."
The activities leading up to and during Take Back the Night help spread the message that the Syracuse University and SUNY ESF communities will not tolerate any form of sexual or relationship violence on these campuses, and that every individual plays a vital role in creating a community that is a safe and caring place to live. These events help bring Syracuse University and SUNY ESF closer to the goal of becoming a community of "empowered bystanders"—individuals who take action when witnessing potentially harmful behavior and support those who have experienced sexual and relationship violence. Every member of our community is entitled to live and work in a respectful, safe environment, and we are committed to work toward creating such an environment. It is on all of us to support those impacted by sexual and relationship violence and demonstrate our commitment to speaking up and stepping in.
The following is the list of activities for Take Back the Night 2015:
• Hands Against Violence, March 30-31 from 11 a.m.-3 p.m., Schine Student Center Atrium
• Take Back the Night Rally. March. Speak-Out., March 31 beginning at 7 p.m., Hendricks Chapel
The rally and march are open to the public. Free parking is available in the SU Harrison/Lehman lots.
• Breaking the Silence to Stop the Violence, April 7 at 7 p.m., The Underground, Schine Student Center
Sponsored by A Men's Issue (AMI)
Students and community members will have several opportunities to symbolically pledge that they will not use their hands for violence. This is done by adding their hand, covered with finger paint, to a banner that will be hung in Hendricks Chapel during the event. Students can visit the Hands Against Violence tables at the Schine Student Center on March 30 and 31.
On Tuesday, March 31, community members are invited to gather at Hendricks Chapel for a rally beginning at 7 p.m. Kim Williams will be the keynote speaker at this event.
Williams is currently enrolled in the Ph.D. program in cultural foundations of education. She also co-teaches the Intergroup Dialogue class on race and ethnicity. Williams received a B.A. in psychology and sociology from Concord University and a master's degree in human resource management from the University of Charleston. In addition, she received a second master's from Syracuse University in communication and rhetorical studies.
Prior to enrolling in the Ph.D. program, Williams worked in a variety of roles on campus. She was a residence director and a coordinator in the Office of Residence Life, and then joined the Office of Multicultural Affairs as an associate director. Many students also know Williams as a mentor in the campus Posse Program.
Williams is deeply connected and committed to eradicating issues of sexual violence, domestic violence and other issues that affect women disproportionately as a constituent group. She is a feminist who volunteered as a mentor for the peer group e5m, with the former R.A.P.E. Center at SU, sits on a women's leadership group on campus and has enhanced her education with a C.A.S. in women and gender studies.
Following the rally will be the Take Back the Night march. At the conclusion of the march, a speak-out will be held in Hendricks Chapel, where anyone who has been impacted by sexual and/or relationship violence is invited to speak. Due to the sensitive nature of the speak-out, it is closed to the media.
For more information about Take Back the Night activities, contact Jill Sneider at 315-443-7126 or jasneide@syr.edu.
Follow the events on Twitter at @TBTNSyracuseU, Facebook at http://www.facebook.com/SUTakeBackTheNight, and the Office of Health Promotion website at http://healthpromotion.syr.edu/sexual-relationship-violence/tbtn.html.