Business & Economy
MBA@Syracuse Ranked #8 in U.S. in QS Distance Online MBA Ranking
The Whitman School's online MBA program, MBA@Syracuse, has been ranked #8 in the U.S. and #16 globally, in the QS Distance Online M.B.A. Ranking, improving from #25 globally in 2014. The full QS Distance Online M.B.A. Ranking 2015 can be viewed on http://www.TopMBA.com/onlineMBA.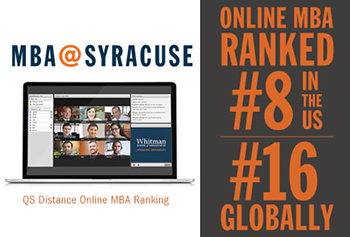 The Whitman School recently launched MBA@Syracuse, its newly enhanced online M.B.A. degree program delivered in partnership with 2U Inc.  MBA@Syracuse allows students from anywhere in the world to take part in the highly regarded Whitman M.B.A. program without having to relocate or put their careers on hold. Classes take place on a live, online platform taught by Whitman's award-winning faculty, as well as multi-day domestic and international residencies connecting students with the comprehensive education and experience they need to succeed in today's competitive business environment.
"Today's acknowledgement follows a history of recognition for Whitman's distance education programs, which began with our first distance education program in 1977," said Amy McHale, assistant dean for masters programs. "We continued to innovate in distance learning this year by further enhancing our program through integrating new technologies that are providing our students and faculty with live weekly classes for even more online interaction. The new online format has drawn interest among working professionals and we recently welcomed our largest M.B.A. class, further expanding the Whitman network across the U.S and the world."
The QS Distance Online M.B.A. Ranking evaluates accredited online and distance learning M.B.A. programs. The ranking methodology assesses online M.B.A. programs across six areas: employability, student quality, the program's establishment in the online M.B.A. market, faculty and teaching, class experience and diversity. A total of 25 schools are included in the ranking.