IVMF Recognized for Work Empowering Women as Entrepreneurs and Leaders
In a ceremony on Capitol Hill last night, the Army Women's Foundation recognized the Institute for Veterans and Military Families (IVMF) for its support of women veterans and service members.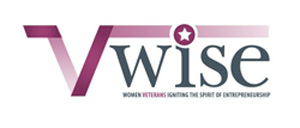 IVMF's Veteran Women Igniting the Spirit of Entrepreneurship (V-WISE) program received a Special Recognition Champion Award for its work empowering women veterans to realize their dreams as entrepreneurs. J. Michael Haynie, vice chancellor of veterans and military affairs and IVMF executive director, accepted the award on behalf of the V-WISE program.
U.S. Army Colonel (ret.) Jill Chambers, a member of the IVMF Board of Directors and founder of This Able Vet, was inducted into the Army Women's Foundation Hall of Fame.
"As an Army woman myself, I'm very proud that V-WISE has earned this recognition from the Army Women's Foundation," says Meghan Florkowski, V-WISE program manager. "This honor is a testament to the many women veterans and military spouses who have graduated from V-WISE and gone on to be business and community leaders."
Since 2011, IVMF has partnered with the U.S. Small Business Administration (SBA) and the Martin J. Whitman School of Management to host 12 classes of V-WISE with over 1,000 women participating in a 15-day online course, followed by a three-day entrepreneurship conference. Over a weekend of intensive workshops led by successful entrepreneurs and business professors, V-WISE teaches women veterans and military spouses how to leverage their military experience and develop new skills to launch and grow their own small businesses.
"V-WISE is such a celebration of the female veteran experience," Chambers says. "Every class I've spoken to has had so much energy, vision and drive." Chambers, a 28-year veteran of the U.S. Army who spent many years advocating for wounded warriors, is a past graduate of IVMF's Entrepreneurship Bootcamp for Disabled Veterans. She now speaks at V-WISE conferences about her experience launching and growing a business.
Today Haynie will speak at the Army Women Foundation's seventh annual summit focused on business opportunities, career transitions and leadership issues impacting Army women. He will address employment, entrepreneurship and the many ways women veterans are succeeding in the workforce as employees and as business leaders.
The Army Women's Foundation summit begins today and takes place at the Women in Military Service for America Memorial at Arlington National Cemetery.