Happy 145th Birthday, Syracuse University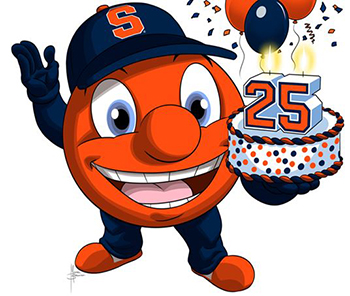 Birthdays are typically marked by giving, but National Orange Day is marked by giving back. National Orange Day, March 24, is a day of celebration, considering it's Syracuse University's 145th birthday, and the 25th birthday for our beloved mascot, Otto (see a Q&A with Otto here).
It's described by organizers as a wonderful tradition that brings the Syracuse University community and alumni clubs across the nation together to celebrate the history of SU and to engage in projects that support our respective local communities. For instance, the alumni club in Atlanta will offer tutoring to at-risk children. In Boston, alumni will be putting together art supply kits for disadvantaged kids. In Washington, D.C., alumni will be holding a toy drive. In Central New York, alumni are holding a food drive to benefit the Central New York Food Bank. (A complete list of alumni activities can be found here).
Along with birthday cake, National Orange Day on the SU campus will feature live presentations of the winning projects for the Fast Forward Student Competition. Students have submitted their ideas for how Syracuse University can have a positive impact on the world. The winning entrants will receive $1,000 to make their ideas come to life. Among the winning ideas this year are creation of an Otto-drop, where people can donate clothing and items for those in need, and new signage to provide direction to key buildings around the SU campus.
National Orange Day is part of Philanthropy Week, an effort to educate students, alumni, campus and the broader community about the benefits of philanthropy-the importance of volunteerism, charitable giving and other efforts to better our world, and especially how philanthropy and the generosity of donors affect all of SU.