Media, Law & Policy
'Breaking Digital: NGOs Debate' April 2 in Washington, D.C.
As nongovernmental organizations (NGOs) proliferate around the world, many in the nonprofit community are examining what model of organization best serves the populations they support—the traditional "brick and mortar" model, the fully digital form or a hybrid of both. What are the comparative advantages, strengths and weaknesses of "going digital?" Where do we see different forms of activism compete, and where are the most promising cases for collaboration?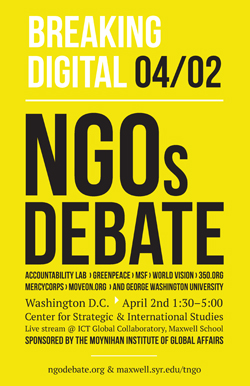 During an April 2 interactive debate in Washington, D.C., a group of academics and NGO leaders representing both traditional and digital NGOs will use a real-world crisis scenario as the catalyst for a debate about the advantages and challenges of adopting digitally enabled forms of activism and their relationship to theories of change, strategies and tactics, and organizational and leadership characteristics. The event will be held 1:30-5 p.m. at the Center for Strategic and International Studies, 1616 Rhode Island Ave., NW, Washington, D.C.
The event is sponsored by the Transnational NGO (TNGO) Initiative at the Moynihan Institute of Global Affairs at the Maxwell School.
Debate participants will include:
Michael Silberman, global director of the Digital Mobilization Lab, Greenpeace;
Jason Kowalski, policy director, 350.org;
Robtel Neajai Pailey, academic/activist/author, SOAS, University of London;
Ben Wikler, Washington director, MoveOn.org;
Jason Cone, communications director, MSF USA/Doctors without Borders;
Blair Glencorse, founder and executive director, Accountability Lab;
Andrea Koppel, vice president of global engagement & policy, Mercy Corps;
Steven Livingston, professor, George Washington University;
Mark Smith, humanitarian & emergency affairs senior director, World Vision; and
Dave Karpf, professor, George Washington University (moderator).
Tosca Bruno-van Vijfeijken, director of the TNGO Initiative, says that digital NGOs and brick and mortar NGOs are not binary choices; they operate on a spectrum, a continuum in civil society. But each has legitimate reasons to claim that its approach is best.
"While leaders of digital NGOs and platforms claim that they are faster to raise funds and more responsive to citizen activists' desires to initiate civic action on their own terms," says Bruno-van Vijfeijken, "leaders of brick and mortar NGOs say 'not so fast!'  It is easy to say that you are starting a new digital campaign every week and to claim that you have millions of followers and are raising large sums of money.  But when it comes to providing tangible assistance during humanitarian relief and development situations, brick and mortar NGOs are the only ones that can directly do so. They also have the kind of institutional staying power in countries that helps them pursue policy change over the longer term, and they have the long-term relationships in communities," she adds. "What is certain is that there is plenty of room for complementarity and collaboration across the spectrum, and we see it as our role in the Transnational NGO Initiative to support this exploration."
A live stream will be broadcast to 060 Eggers Hall, the ICT Global Collaboratory at the Maxwell School, and will also be available at http://www.ustream.tv/channel/maxwellsu. This event is made possible by a Moynihan Faculty Challenge Grant and is part of the Maxwell School's 90th anniversary celebration.
For more information, go to http://www.ngodebate.org or https://www.maxwell.syr.edu/moynihan/tngo/Digital_NGO_Debate/, or contact Ken Harper at the Newhouse School, 315-443-6131 or Tosca Bruno-van Vijfeijken at Maxwell, 315-443-5073.