Arts & Culture
Art of the Female Workforce: A Women's Retreat for Students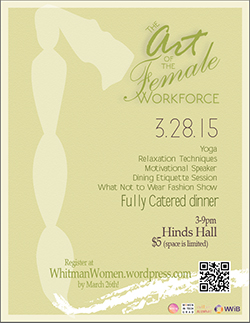 The Martin J. Whitman School of Management and the School of Information Studies (iSchool) have formed a partnership to celebrate Women's History Month and will hold an event, "The Art of the Female Workforce," on Saturday, March 28, from 3-9 p.m. in Hinds Hall.
The retreat will focus on the challenges women face in today's professional world and the art of succeeding despite those issues. For a registration fee of $5, attendees will enjoy a yoga class, a session on women's wellness, a motivational talk by Susan Beebe (founder of Tap Into Your Center), a fully catered dinner with a dining etiquette workshop and a "What Not to Wear" fashion show hosted by faculty members of the two schools' career centers.
"The first step in hurdling the challenges women face in a professional setting is to come together and face them head-on," says Deedi Boland '16 MBA, one of the students helping to plan the event. "We're hoping to reach max attendance—it's going to be a fantastic event for female students!"
The retreat is open to both undergraduate and graduate women, although space is limited. For more information on the event and to register, visit http://tinyurl.com/female-workforce.
"The goal of this event is to show the world that Syracuse University knows how to come together to celebrate Women's History Month!" says Boland.
The event is co-hosted by women-focused student groups on campus, including Whitman Women in Business, the It Girls, WIT-U and WIT-Grad .