Campus & Community
Admitted Students to Spend the Night in Carrier Dome
On Sunday, April 12, more than 500 high school students who have been accepted to Syracuse University for Fall 2015 will arrive on campus with their sleeping bags, toothbrushes and perhaps a bit of trepidation. They're coming to participate in SU's third annual Own the Dome event, an overnight gathering that gives current SU students an opportunity to welcome potential classmates.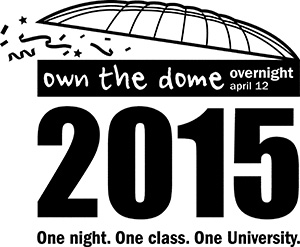 A contingent of student volunteers and staff will spend the evening engaging their guests through team-building activities, entertainment and a picnic dinner on the turf, followed by quiet time to talk and sleep. On Monday morning, the newly admitted students will join their families for a Spring Reception in the Schine Student Center.
It's a memorable and exciting way for admitted students to interact with current students who are eager to share advice and insights. It's also a good way for students who are still undecided about their college destination to determine whether Syracuse will be a good fit.
Staff and students on campus are encouraged to be friendly and responsive to visiting students and their families as they navigate the campus April 12 and 13, as well as during all Spring Receptions. Offering directions and dining suggestions and sharing information about the SU experience goes a long way toward making this visit a positive one for prospective SU families.
"The transition to college is daunting, so we want accepted students to feel that they have a home at Syracuse University," says Hailey Temple, a senior from Huntingdon Valley, Pa., who will serve as one of the evening's masters of ceremonies. "Each SU student has a story to share, and Own the Dome is a chance to help someone start a new chapter at Syracuse with an unforgettable experience." Temple, who is completing a dual degree through Newhouse and the iSchool, adds, "It's a gift to be able to share the pride we have for SU."
SU students are invited to volunteer for this event by assisting with registration, team building and other activities. Single or multiple shifts are available, and an orientation is required. Additionally, SU student organizations are invited to present short live performances during the event, including music, dance, comedy or other original presentation. Visit http://admissions.syr.edu/VolunteerforOwntheDome for details.
The Own the Dome recruitment event is a joint undertaking between the Office of Admissions and the schools and colleges, and is put on in partnership with units across campus, including the Office of Multicultural Affairs, Office of First Year and Transfer Programs, and the Carrier Dome.
More information about Own the Dome can be found at http://admissions.syr.edu/OwntheDome or by contacting the Syracuse University Office of Admissions, 315-443-1595 or ownthedome@syr.edu.