Veterans
V-WISE Recognized as 2015 Harvard Ash Center Bright Idea in Government
Veteran Women Igniting the Spirit of Entrepreneurship (V-WISE) was recognized today by the Ash Center for Democratic Governance and Innovation at the John F. Kennedy School of Government, Harvard University, as part of the 2015 Bright Ideas program.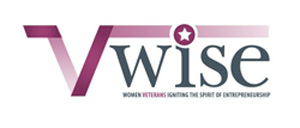 This year's cohort includes 124 programs from all levels of government—school districts; county, city, state and federal agencies; as well as public-private partnerships—that are at the forefront in innovative government action.
V-WISE is the nation's leading entrepreneurship training program for women veterans and military wives, empowering participants to launch or grow sustainable business ventures. Launched in 2011, the program was created through a partnership between the U.S. Small Business Administration, the Martin J. Whitman School of Management and the Institute for Veterans and Military Families (IVMF)—the first national center in higher education focused on the social, economic, education and policy issues impacting veterans and their families post-service.
"The Bright Ideas program demonstrates that often seemingly intractable problems can be creatively and capably tackled by small groups of dedicated, civic-minded individuals," says Stephen Goldsmith, director of the Innovations in Government Program at the Ash Center. "As exemplified by this year's Bright Ideas, making government work better doesn't always require massive reforms and huge budgets. Indeed, we are seeing that, in many ways, an emphasis on efficiency and adaptability can have further-reaching effects than large-scale reforms."