Campus & Community
Third Annual SU Rising: Stop Sexual and Relationship Violence
On Friday, Feb. 13, the Syracuse University community will again organize and raise awareness about the global crisis of gender violence during the annual SU Rising: Stop Sexual and Relationship Violence event. This is the third consecutive year that Syracuse University has joined playwright and activist Eve Ensler's "One Billion Rising" international call to action. The event will begin at 6 p.m. at Hendricks Chapel and is free and open to the public. You can also follow the conversation leading up to and during the event on Twitter at #SURising.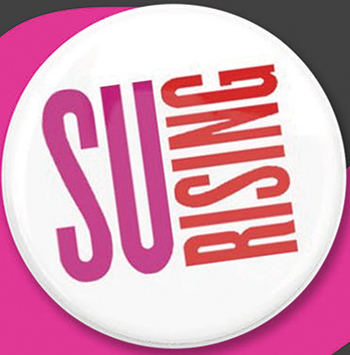 The event will include remarks and performances by several Syracuse University student groups and organizations, including Students Advocating for Sexual Safety and Empowerment (SASSE), SU Zinda, A Men's Issue and the Sexual and Relationship Violence Response Team at the Counseling Center. It will conclude with a candlelight vigil and moment of silence on the steps of Hendricks Chapel. A performance of Ensler's "The Vagina Monologues" will take place at Hendricks Chapel at 8 p.m.
"In the last few months, we have seen issues of sexual assault on college campuses suddenly gain a lot of attention and legislated by the both the federal and state government, highlighted in the media and focused on at Syracuse University," says Tula Goenka, associate professor in the Newhouse School and faculty advisor of SASSE.  "This makes it a critical time to continue to show our support for victims and survivors and fight against all forms of gender violence so that our own campus and the world around it can change for the better."
"SU Rising connects us to the global community in this common call to action," says Tiffany Steinwert, dean of Hendricks Chapel.  "Hendricks Chapel is honored to host this event once again, and gather with our campus community to take a stand against sexual and relationship violence here and around the world."
"SU Rising acts as a reminder that the atrocities of sexual assault and violence against women are deeply engrained not only within college campuses across the United States, including ours, but are ubiquitous worldwide," says Clare Keaney, a senior and co-president of SASSE. "It insists that all survivors of sexual violence and all marginalized peoples deserve real, affecting change."
Co-sponsors for this year's SU Rising are: Hendricks Chapel; Division of Student Affairs; Counseling Center; Office of Health Promotion; LGBT Resource Center; the Newhouse School; the Falk School; the Departments of Religion, Women and Gender Studies and the LGBT Studies program in the College of Arts and Sciences; the Departments of international relations and sociology, the South Asia Center and the Program for the Advancement of Research on Conflict and Collaboration (PARCC) in the Maxwell School; Students Advocating Sexual Safety and Empowerment (SASSE); A Men's Issue (AMI); South Asian Students Association (SASA); SU Zinda; and Vera House.
American Sign Language (ASL) interpretation and Communication Access Realtime Translation (CART) will be provided during the events in Hendricks Chapel.